Here are some of the highlights of the 2014 Festival of Trees in Sandy, Utah at the South Town Expo Center.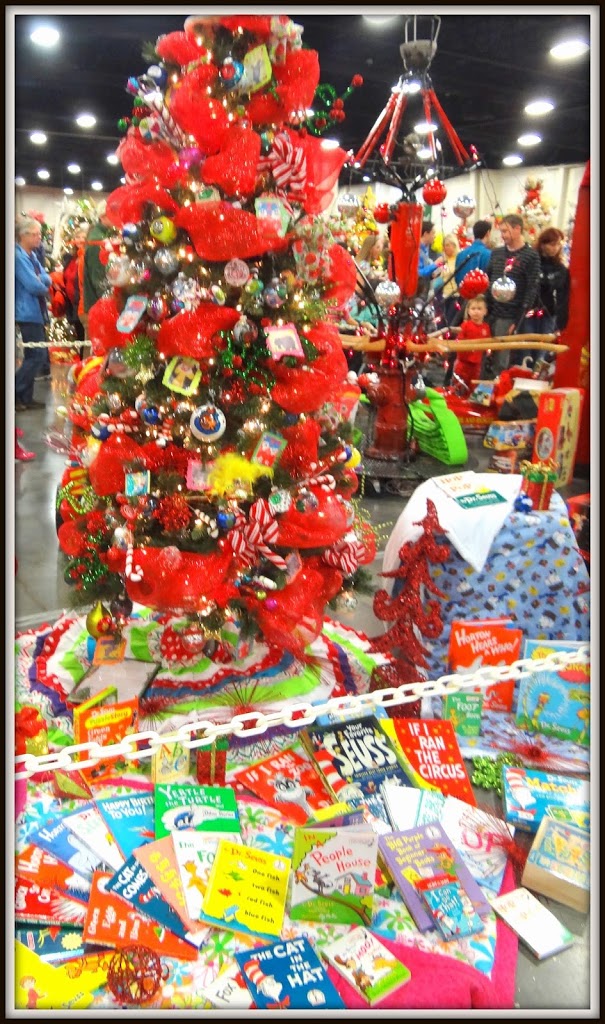 We enjoyed looking at all the hundreds of themed trees at the Festival of Trees. I liked this Dr. Seuss tree.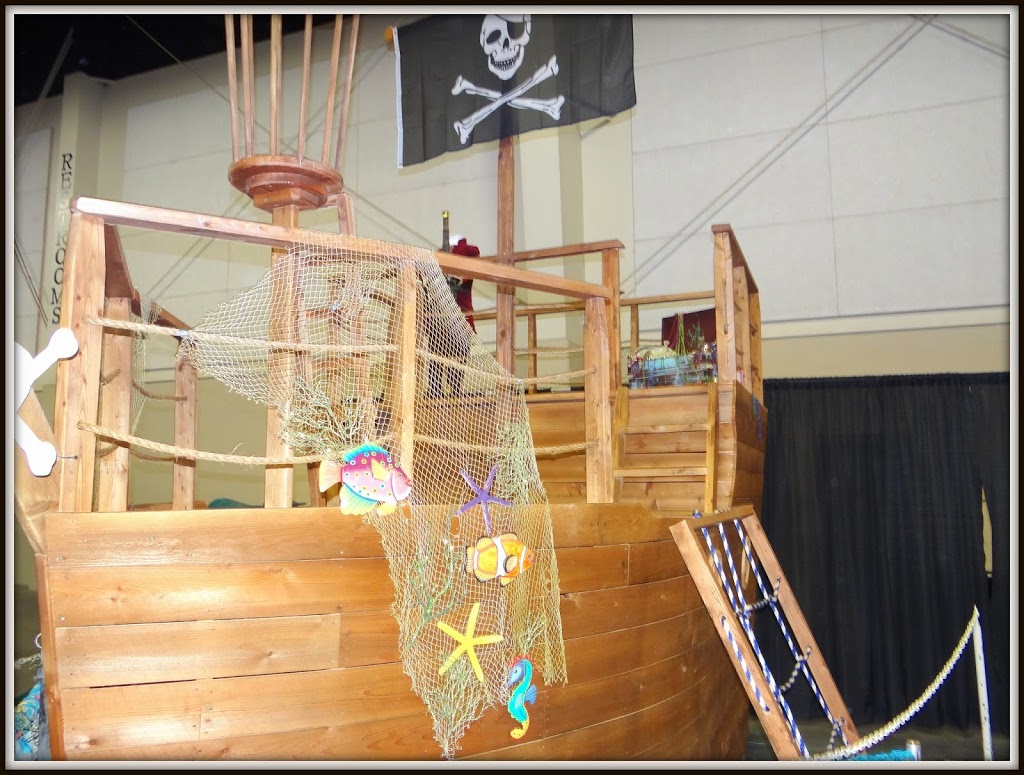 My very favorite of the night was this Pirate Playhouse. There were a dozen playhouses for kids in different designs. Wouldn't my grandkids just adore this pirate boat at my cabin? Um…Yeah!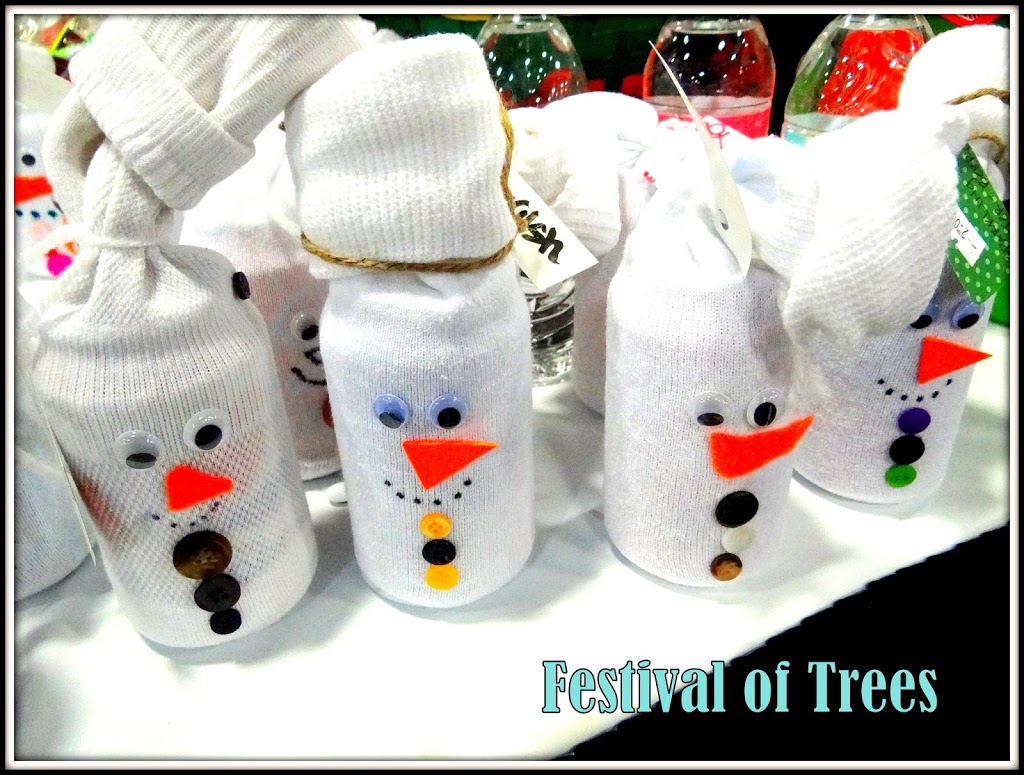 They had lots of crafts made and sold by kids' groups. All the proceeds go to Primary Childrens Medical Center. These snowmen had cokes inside! I thought they might be fun to make sometime using old socks.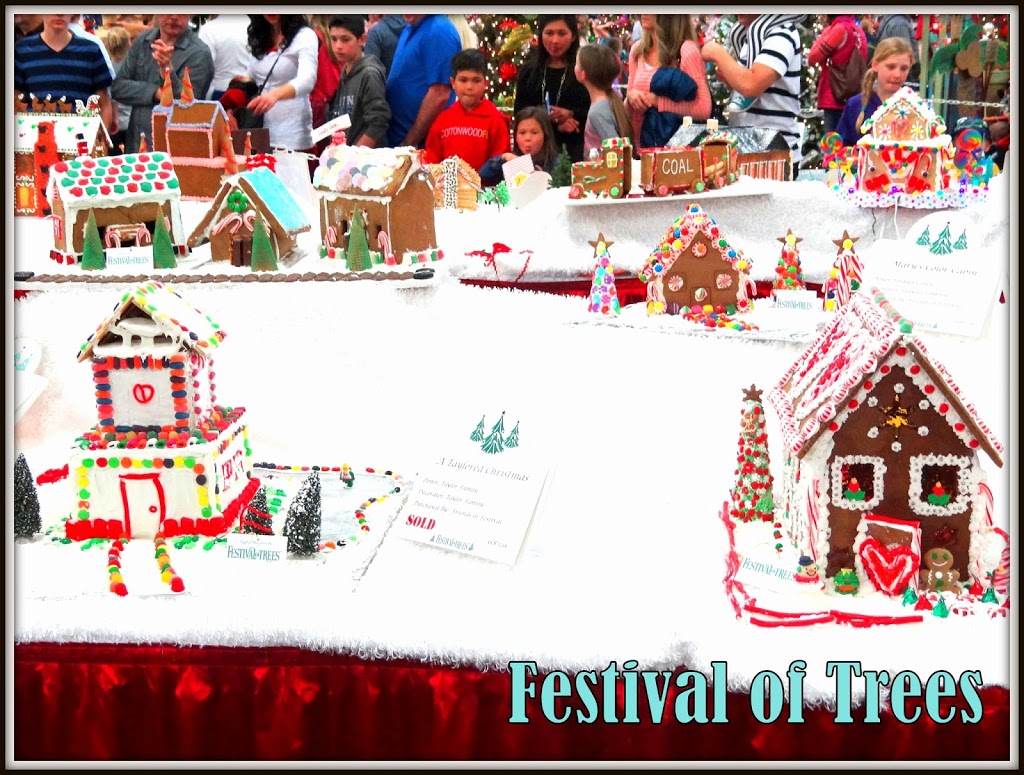 Rows and rows of Gingerbread houses at the Festival of Trees.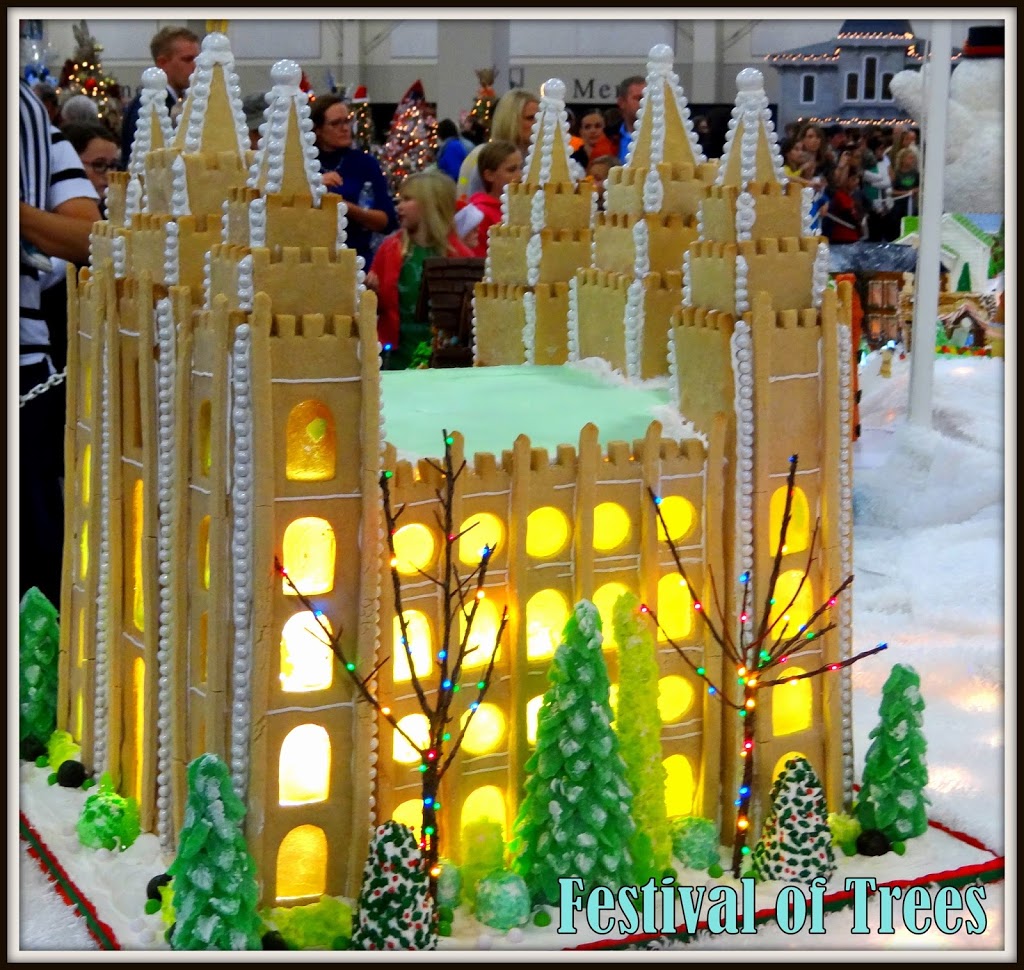 There were also quilts, gingerbread houses, wreaths and lots of candies and homebaked goods at the Festival of Trees. Here is the Salt Lake Temple!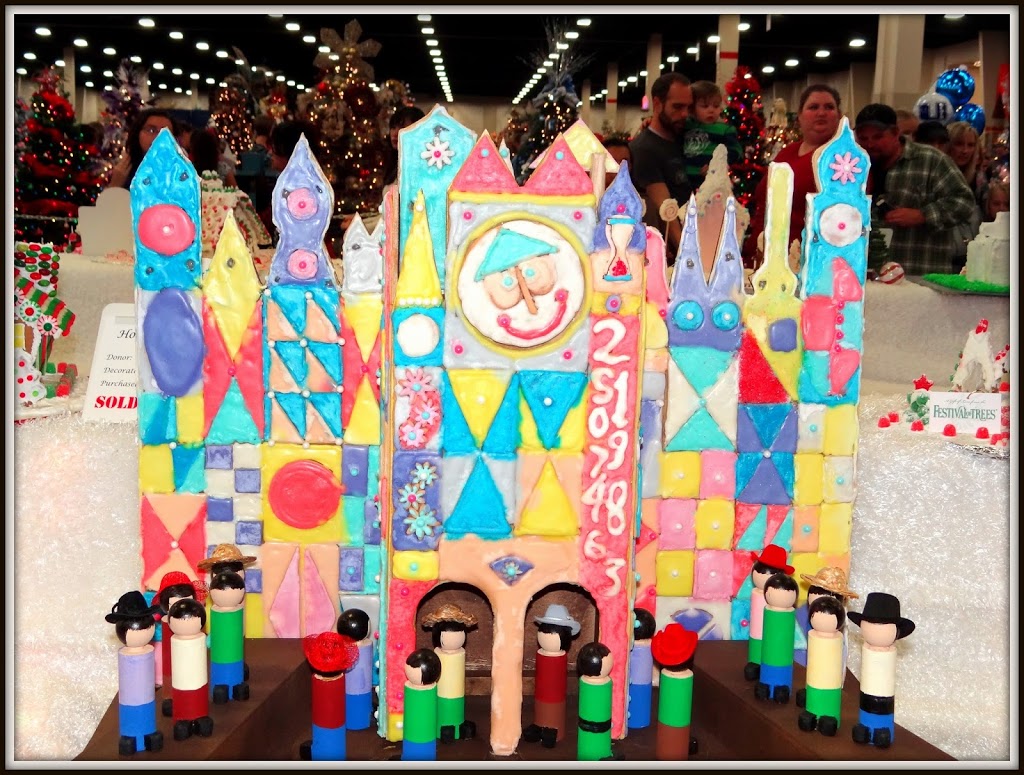 This is a gingerbread house of It's a Small World ride at Disneyland!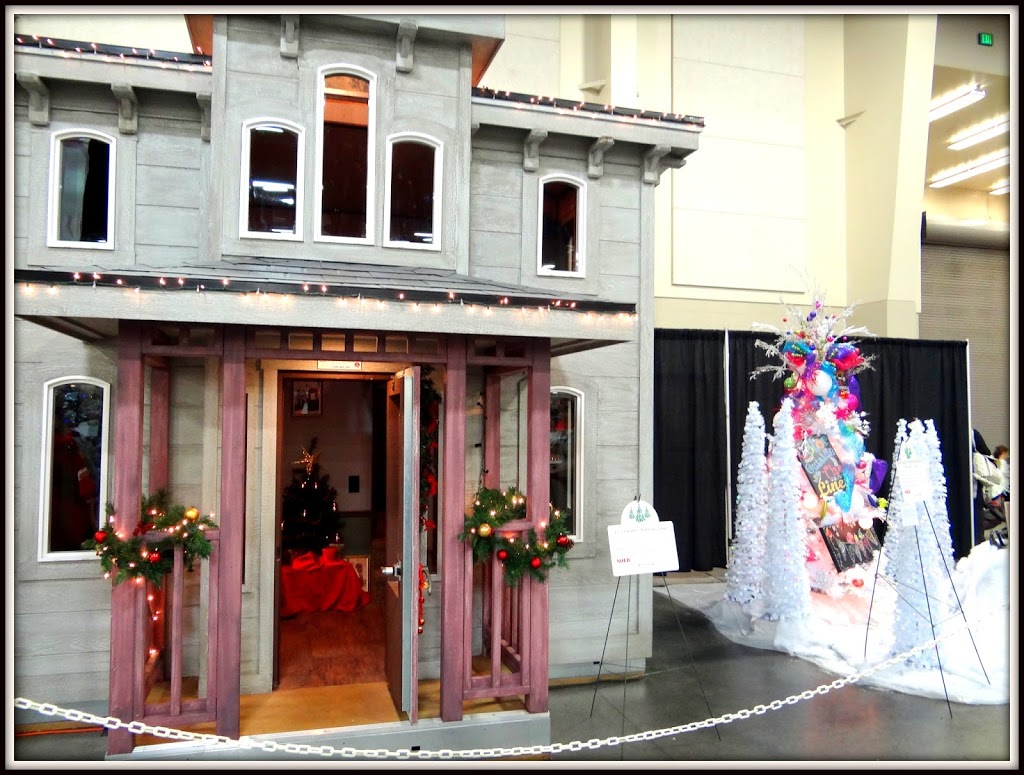 Another fun playhouse for kids. I think these sell for thousands of dollars!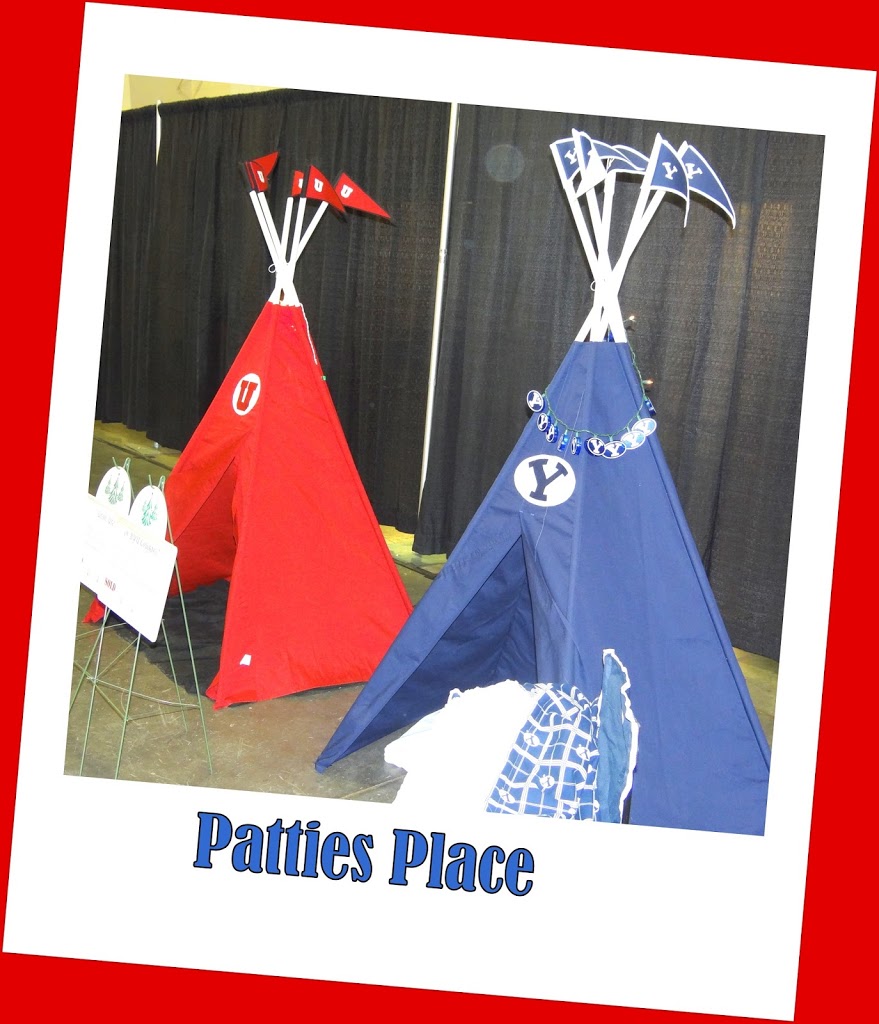 University of Utah Teepee versus the BYU Teepee. There's always a school and football rivalry going on around these parts.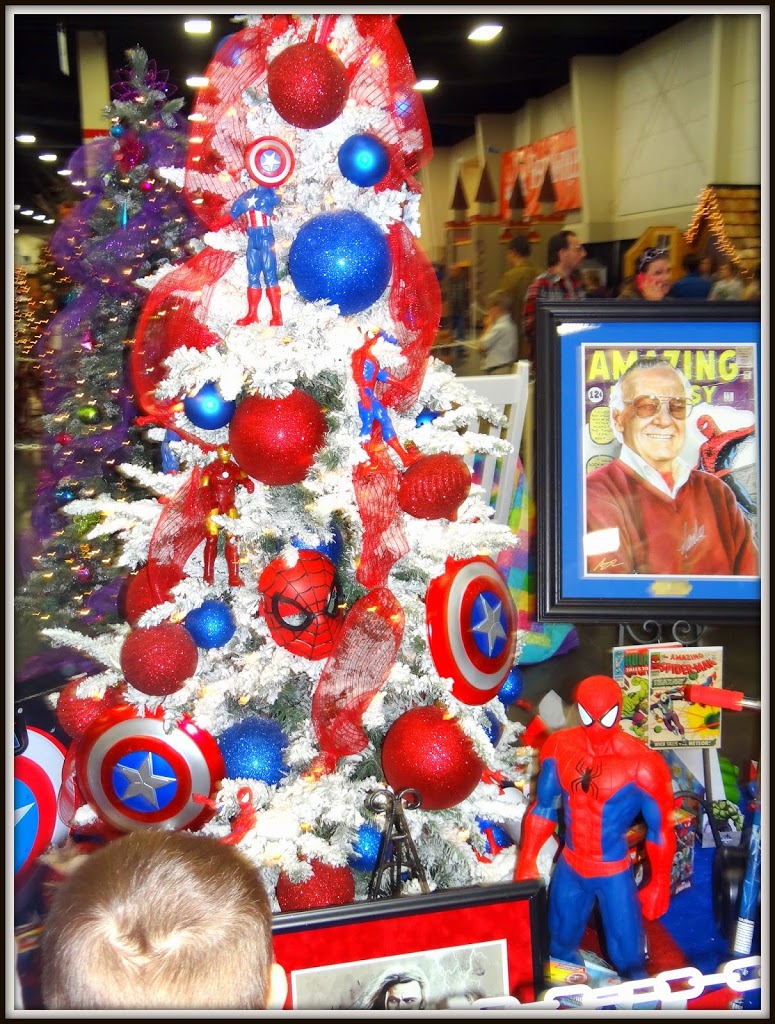 The Captain America and Spiderman Tree was lots of fun.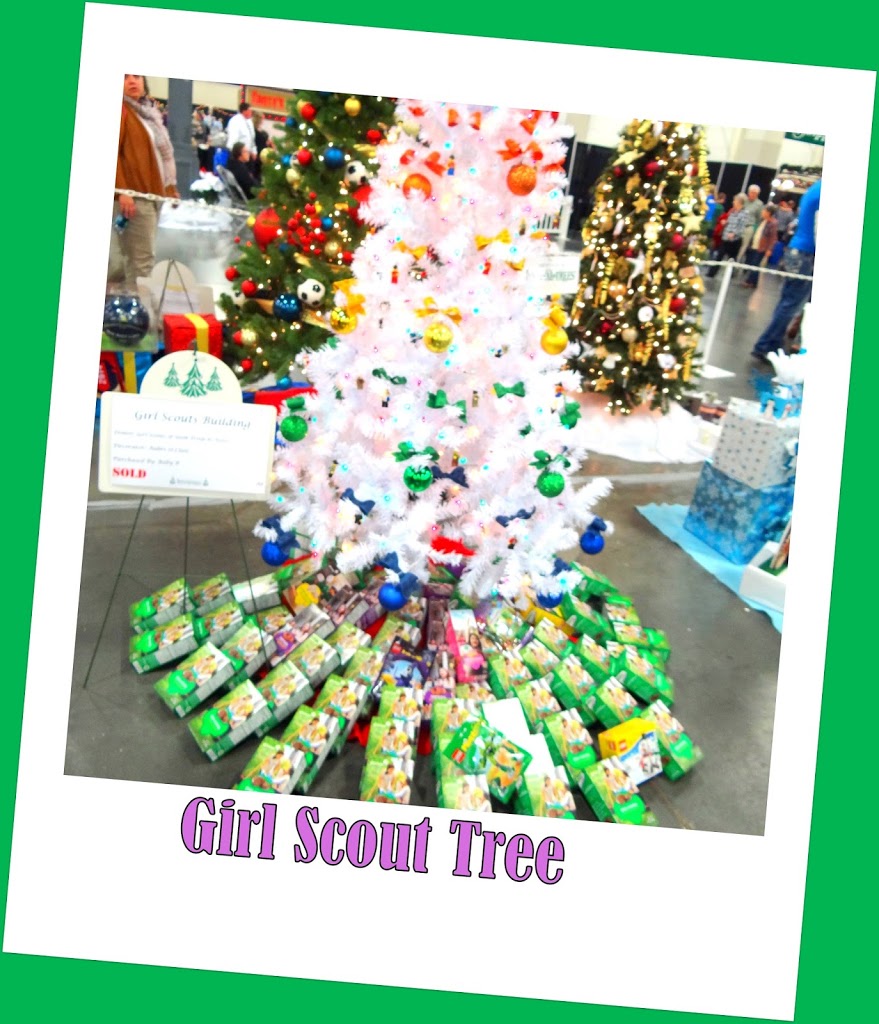 I loved the Girl Scout Cookie tree. Cute!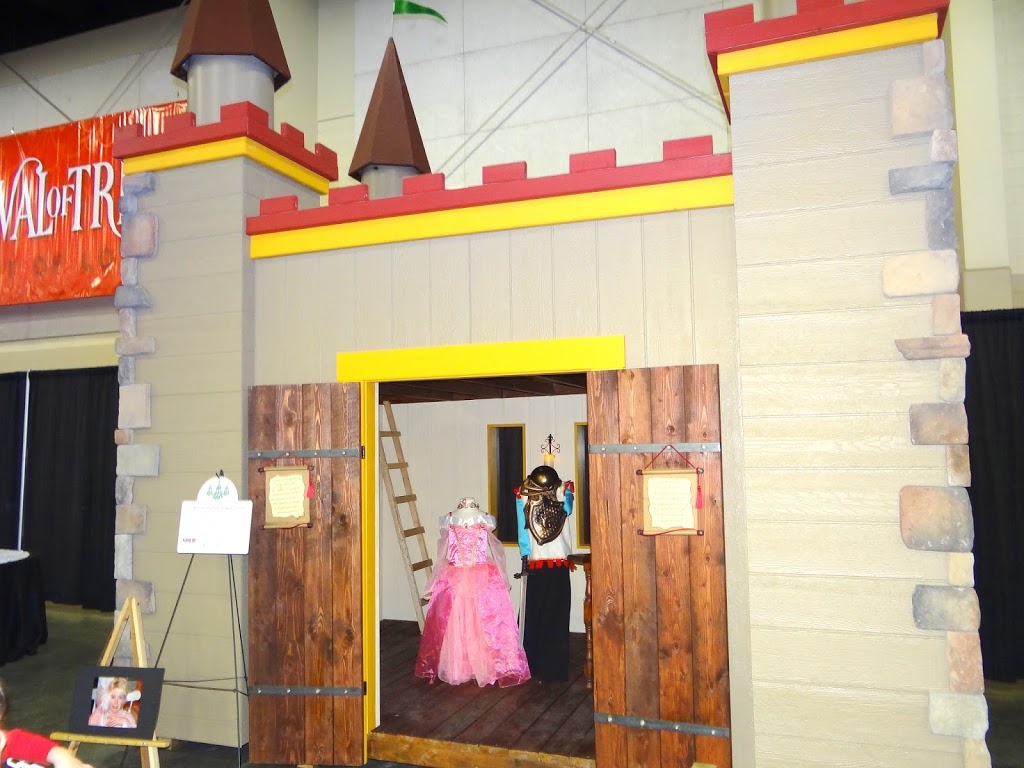 This "Castle" playhouse came with its own princess and prince costumes!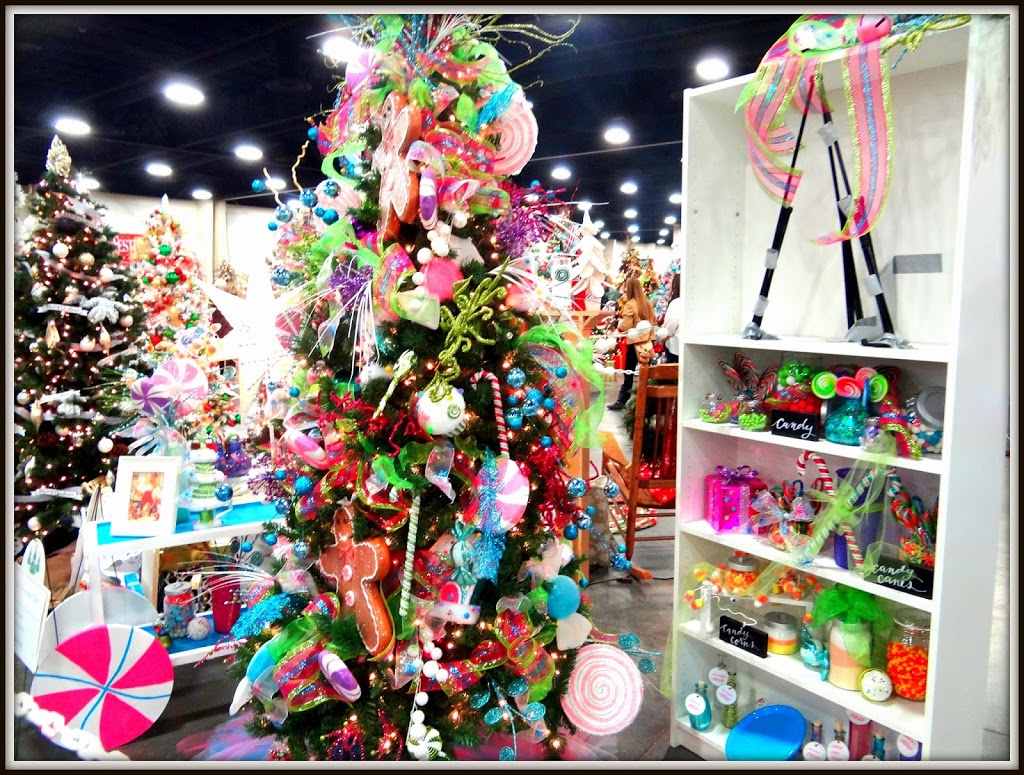 Candy tree at the Festival of Trees. What kid wouldn't want the shelf full of candy to go with it? I would and I'm not even a kid!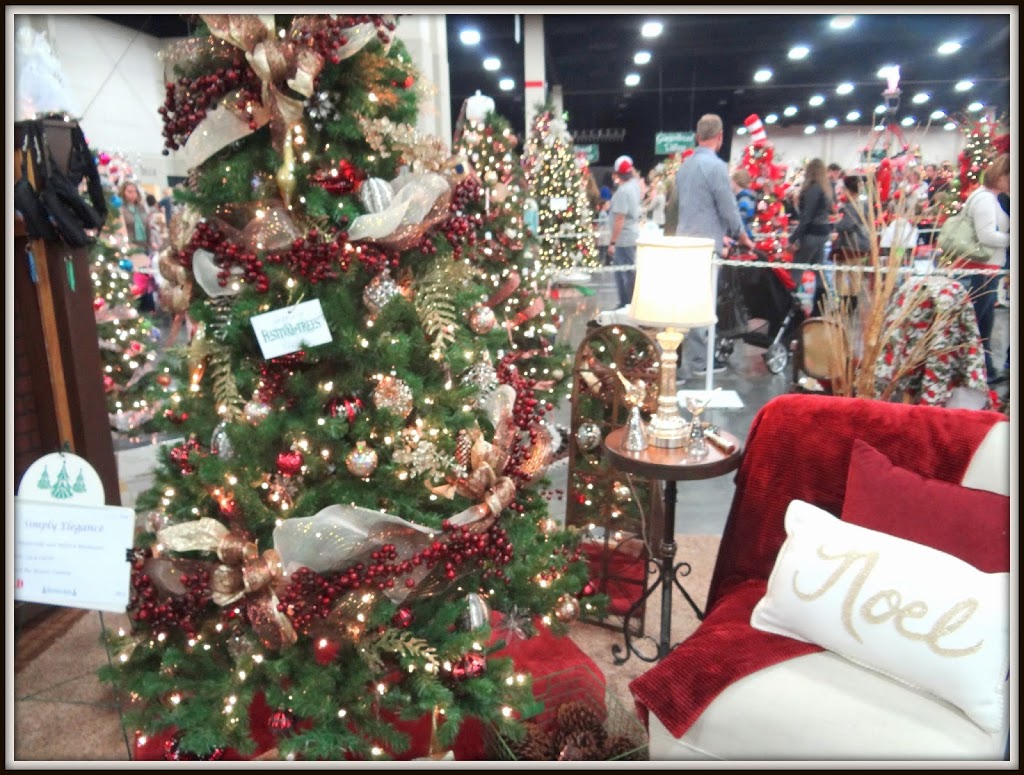 The additional items around the tree get auctioned off as well as the tree, so many of the trees go for several thousand dollars depending on the toys or additional things go along with the tree.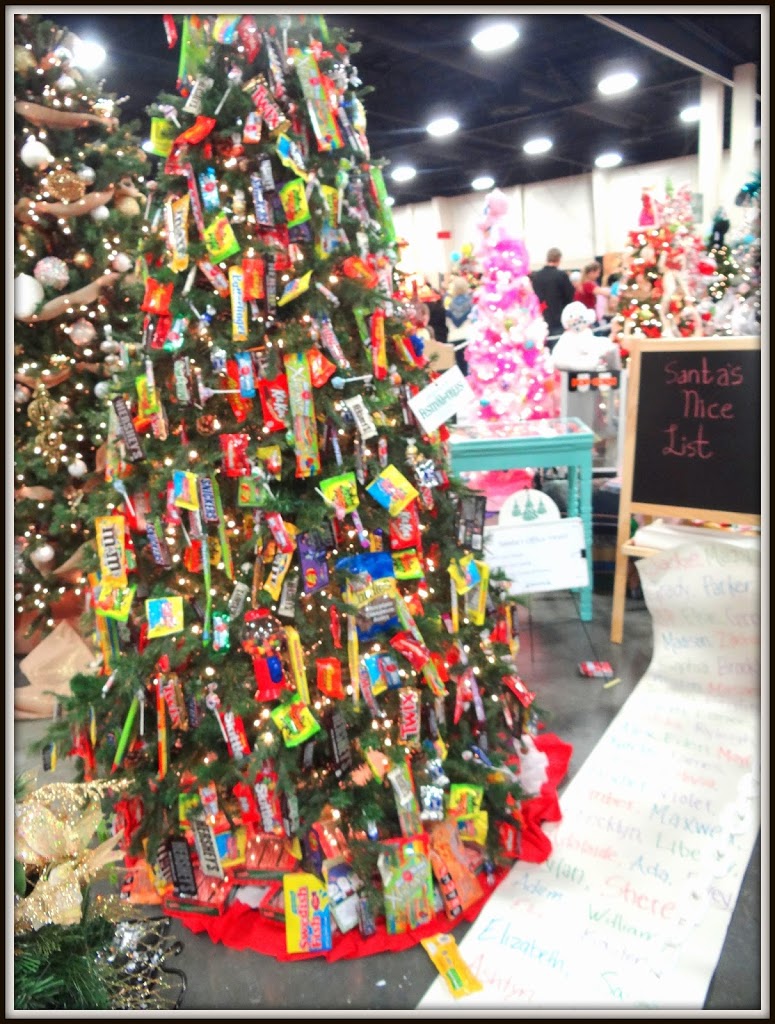 Gotta love a candy bar tree. yum.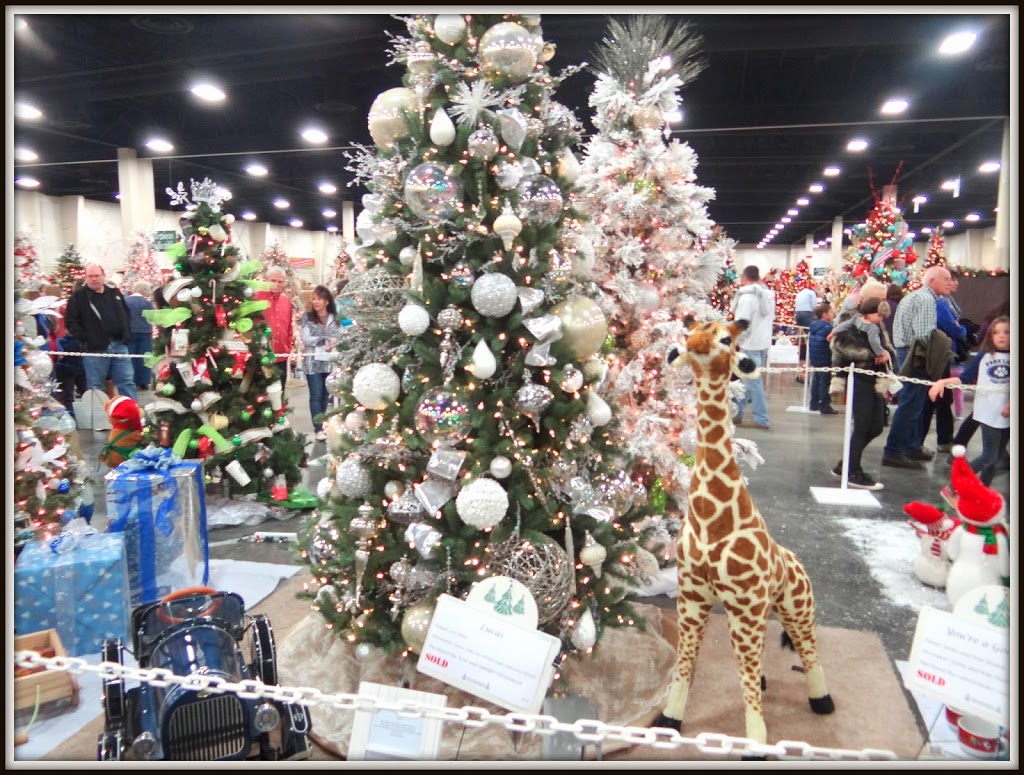 Lots of the trees just have themed colors like this silver and white tree.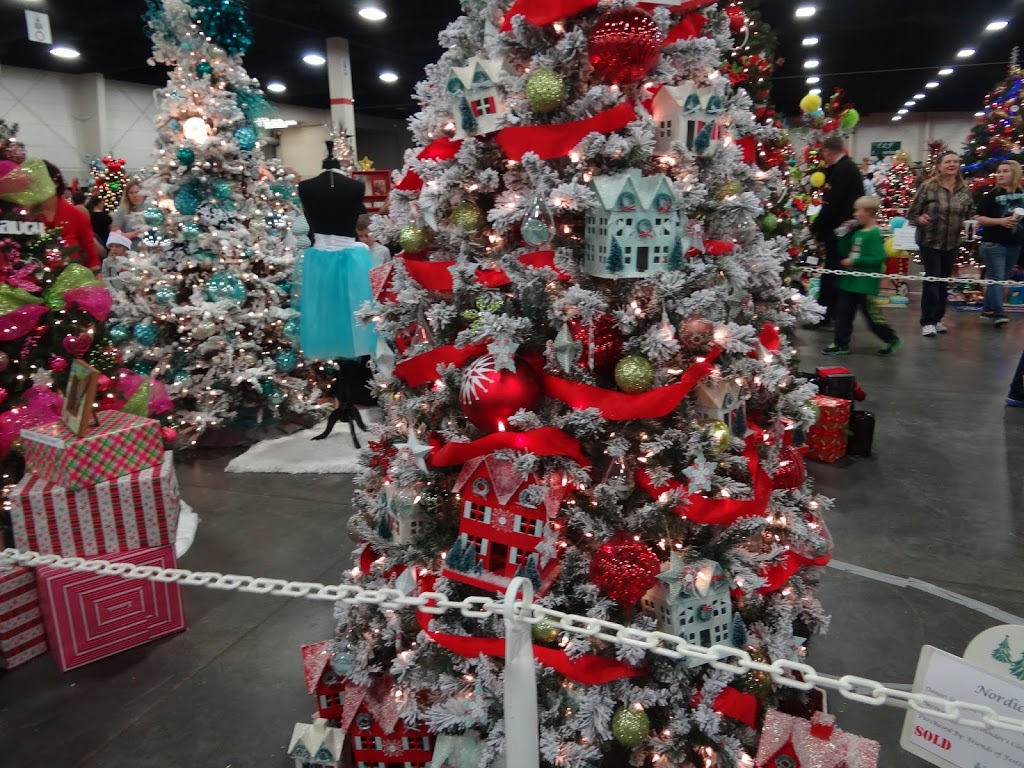 Sometimes the trees were made in honor of somebody who has died and they use their favorite colors, or favorite things or both to design and decorate the tree.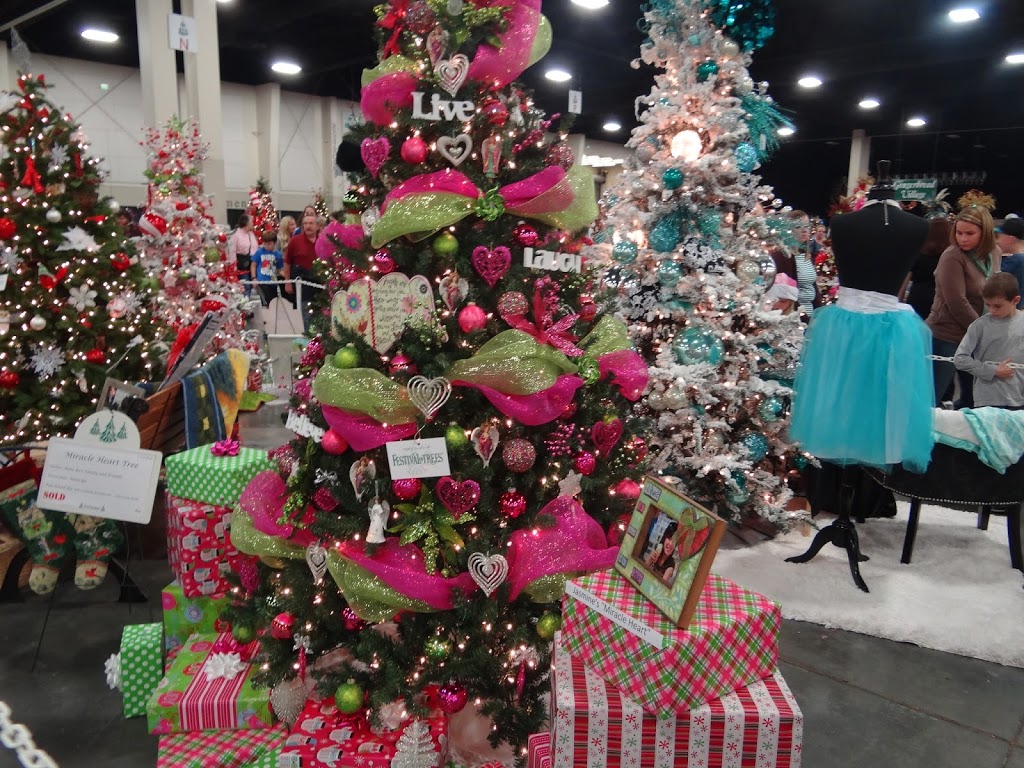 Then they will put that person's picture in a frame near the tree telling about their life. It is very special.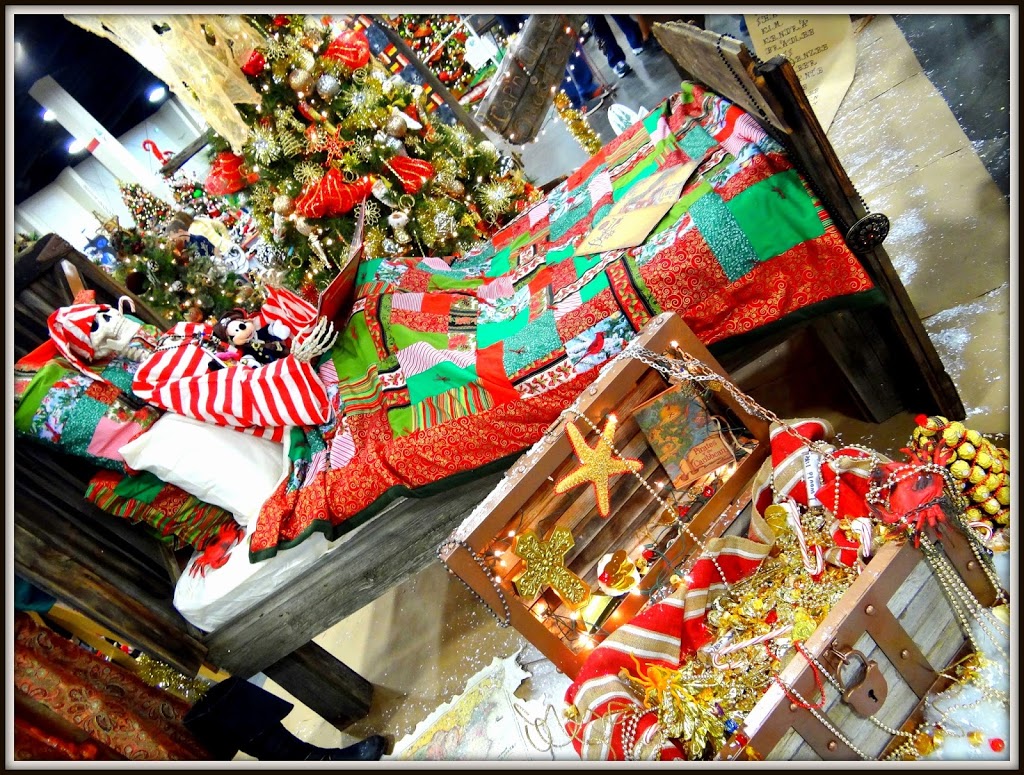 Pirate Treasure Matey! We were the recipients one year of this special kindness. The year our 17 year old son Danny was killed in a car accident the kids in our neighborhood did a Danny tree. It had hockey stuff all over it. The Grizzlies signed a hockey stick and the red and black ALTA High School flags and colors were all over it. It was very special.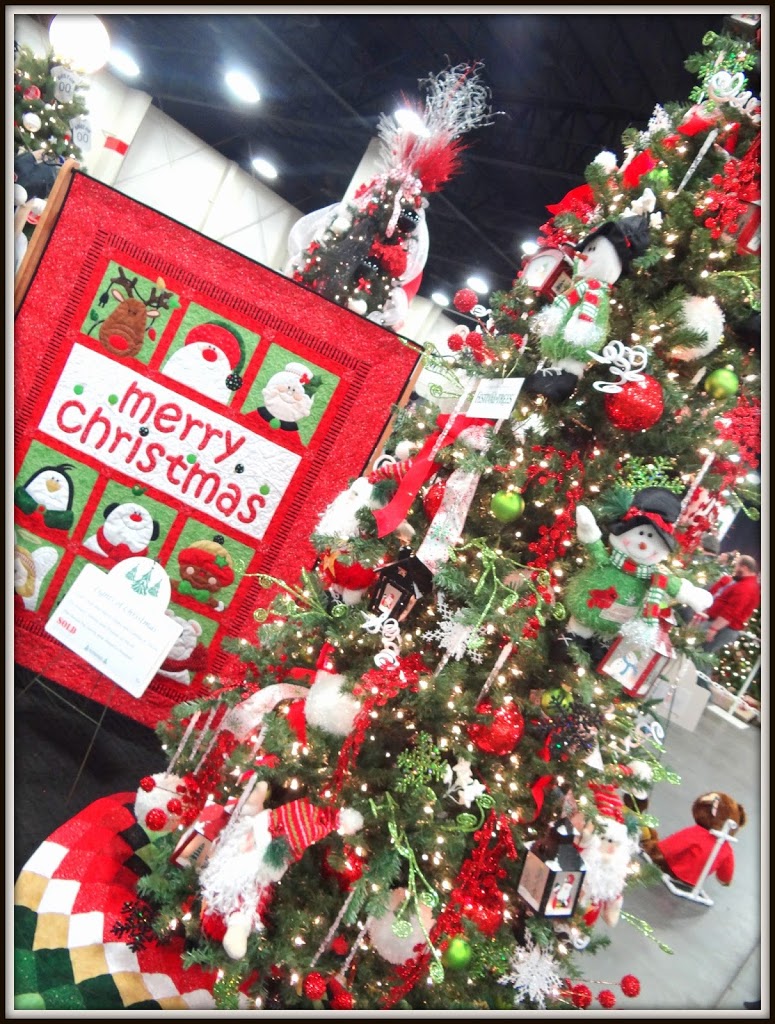 Then somebody anonymously bought and had the tree delivered to us. We keep it up at our cabin. I love it every year. sniff. I think that is why the festival keeps going and getting bigger every year; it is all done because of love and service for others. That is a great motivation too.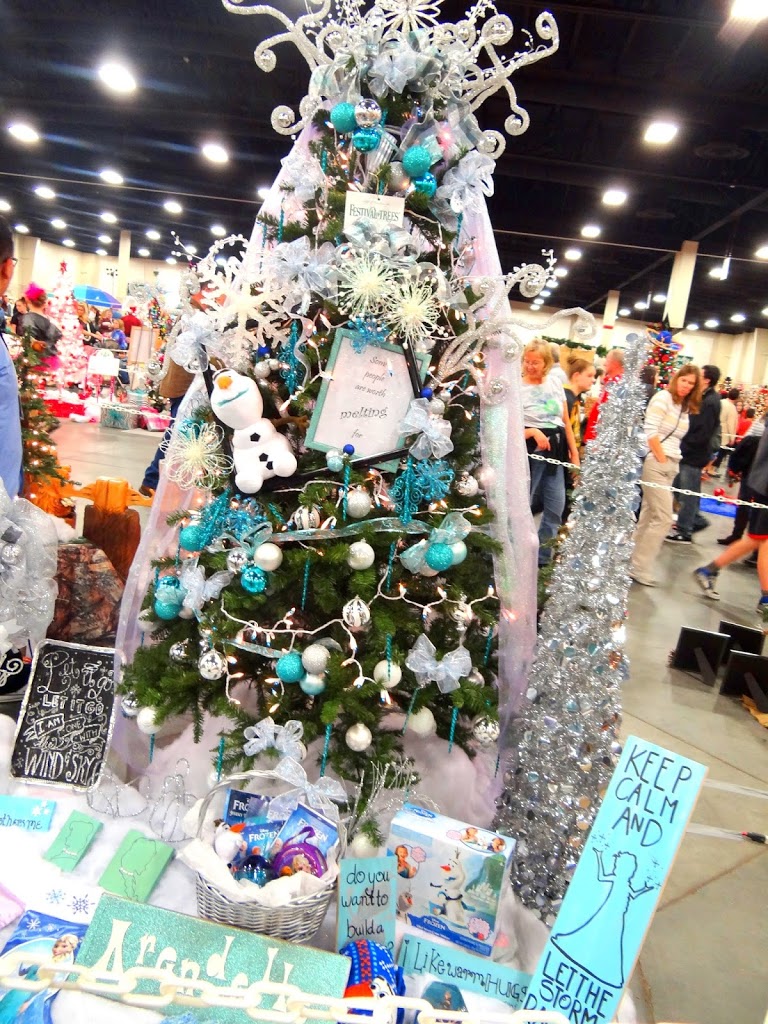 I loved this Frozen tree. "Keep Calm and Let the Storms Rage On." Good motto.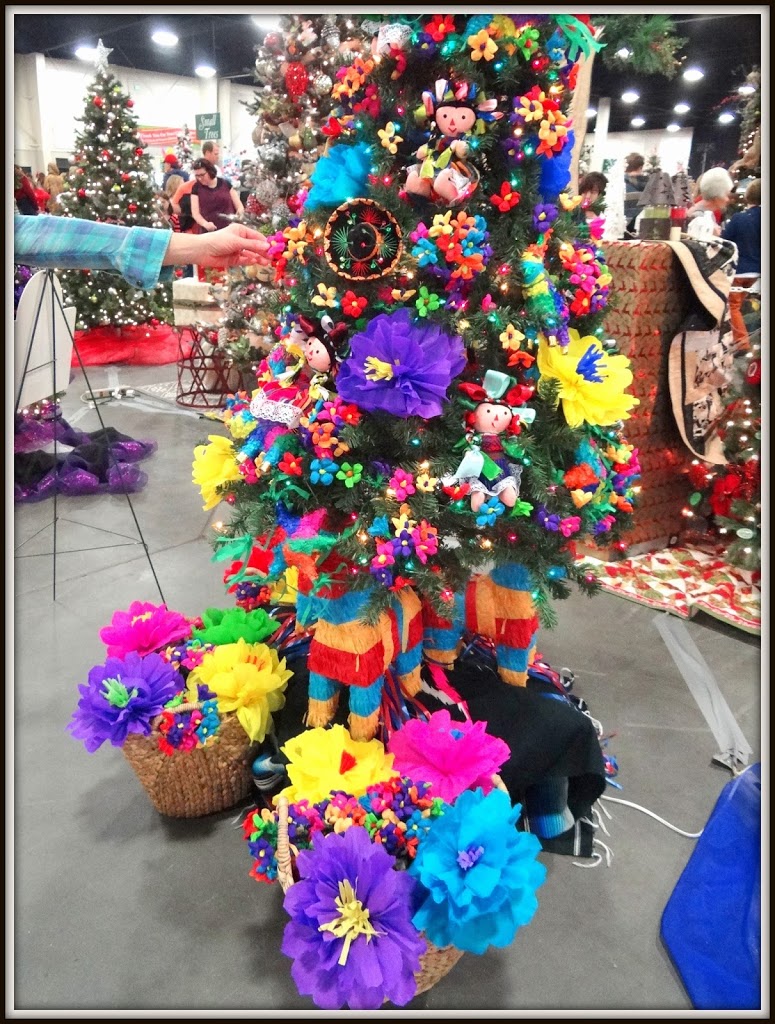 A little Mexican tissue paper flower tree, with some pinatas in there too. Super cute!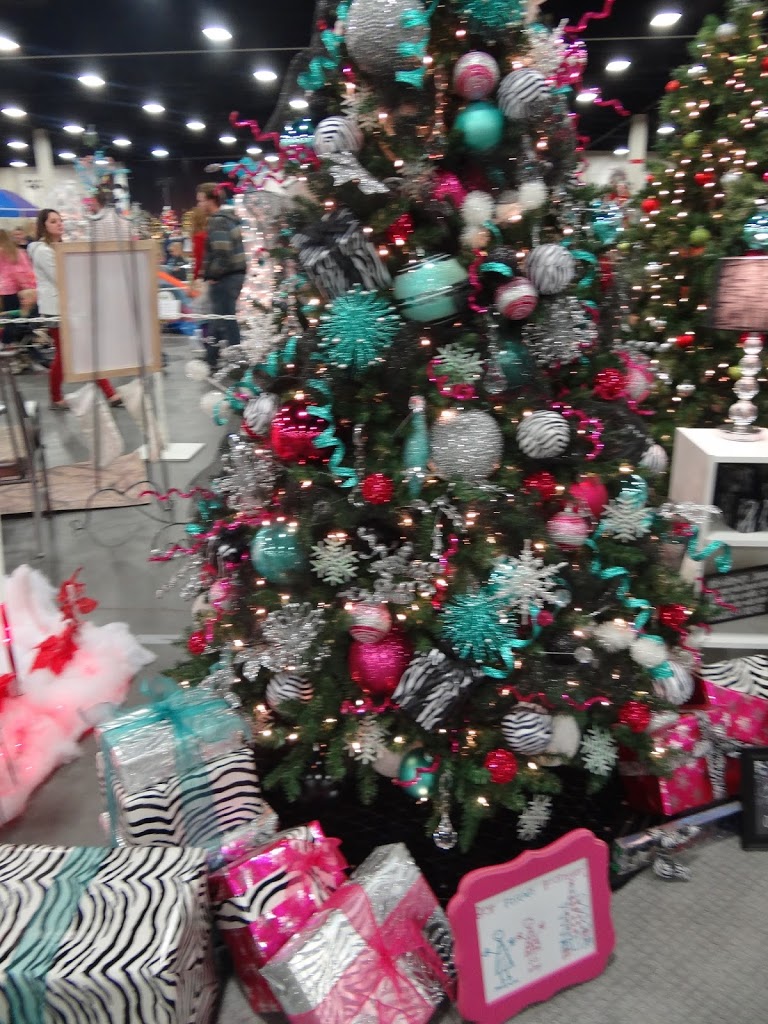 Aqua and Pink and silver with these animal skins made a striking tree.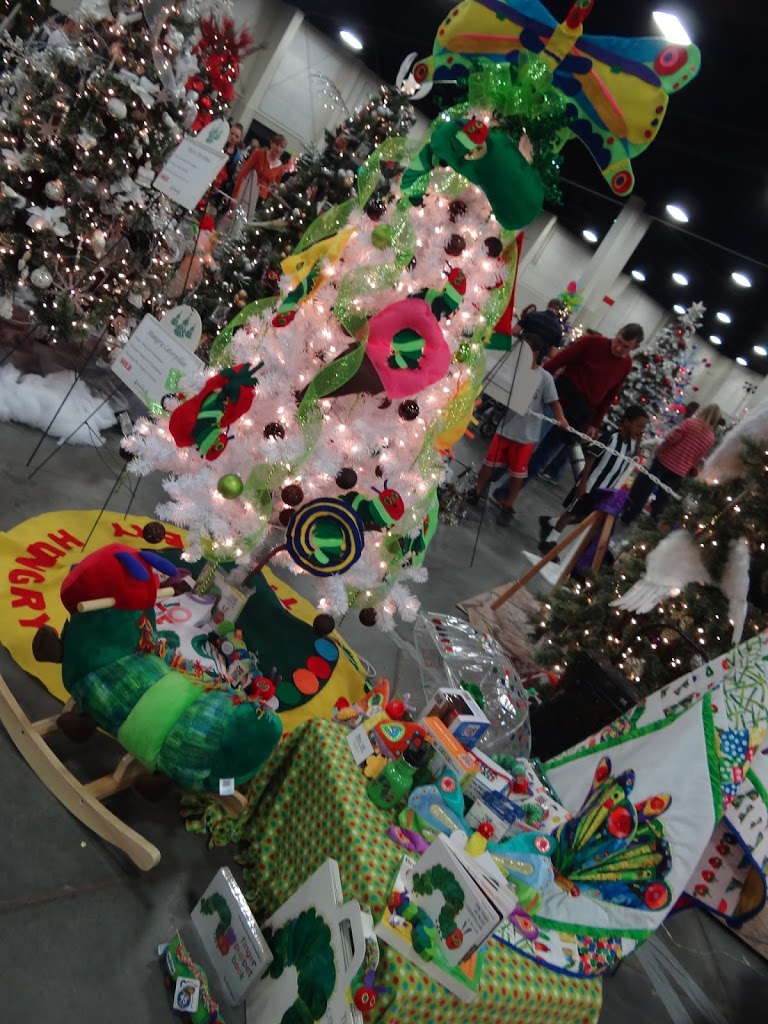 Being a teacher I recognized "The Very Hungry Caterpillar" tree; a book by Eric Carle. And all the goodies that go along with it would be super fun to get.
The "Minion Mantle" had a crowd around it the entire night. I loved it too. Super creative.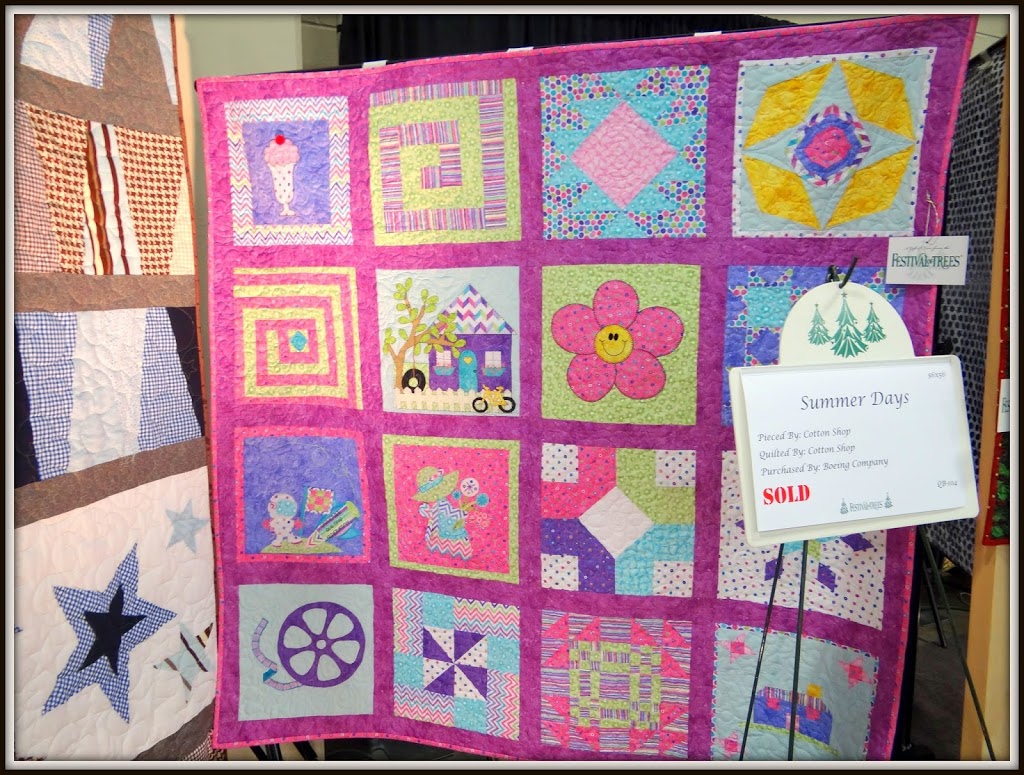 There were dozens and dozens of quilts. I loved this one for a little girl's room.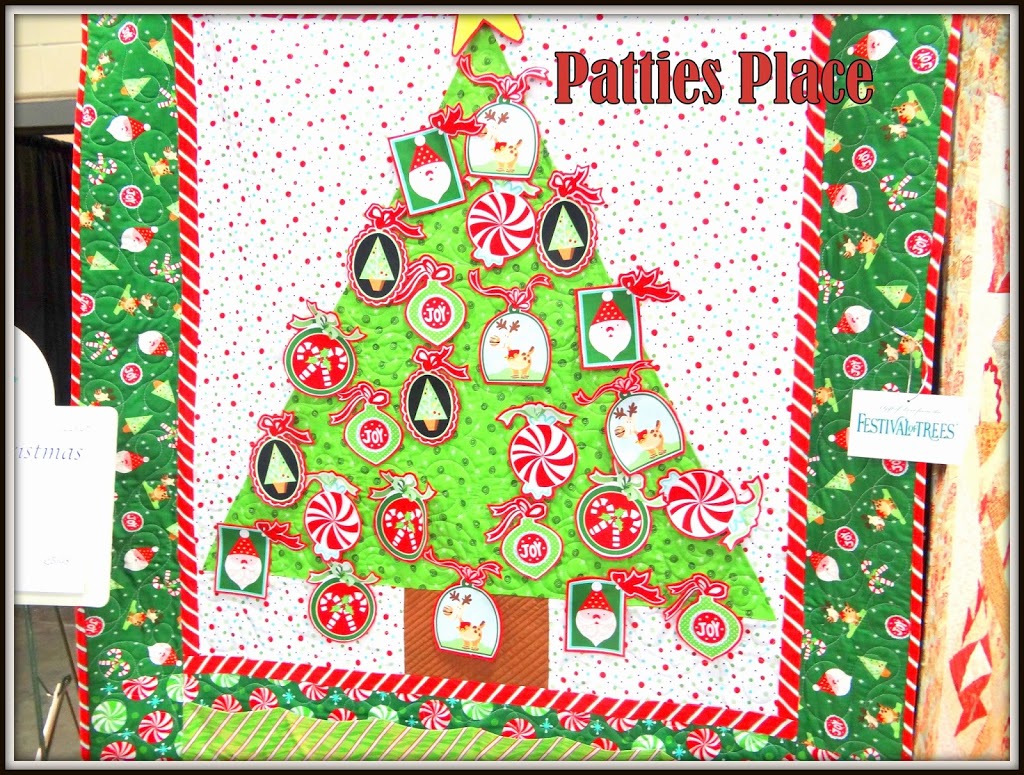 This quilt was a Christmas Tree Advent Calendar. How cute is that? Cuter than the one I have that's for sure!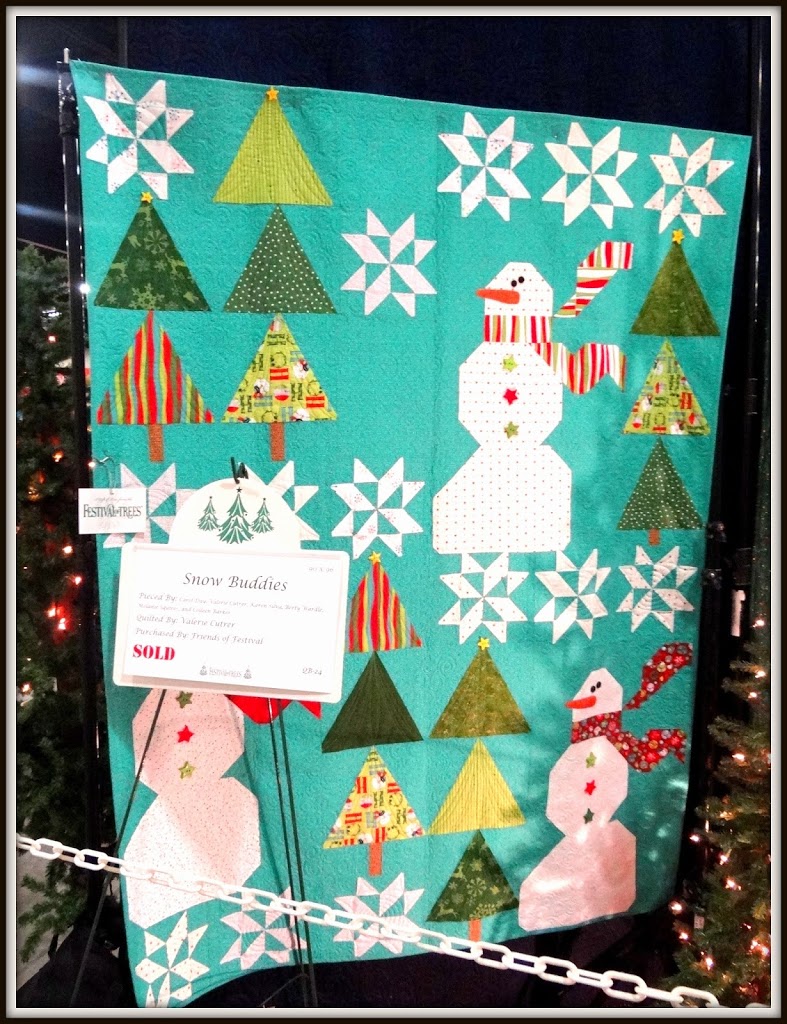 This Snowman Quilt reminded me of Olaf in Frozen.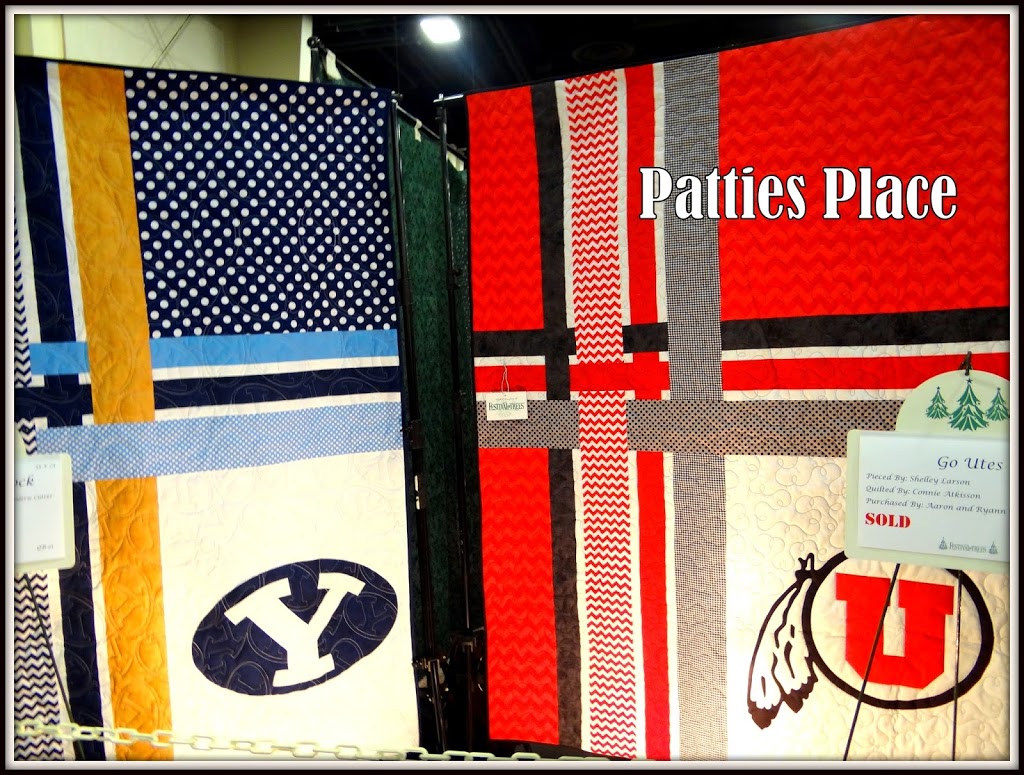 Side by side BYU and UTES quilts.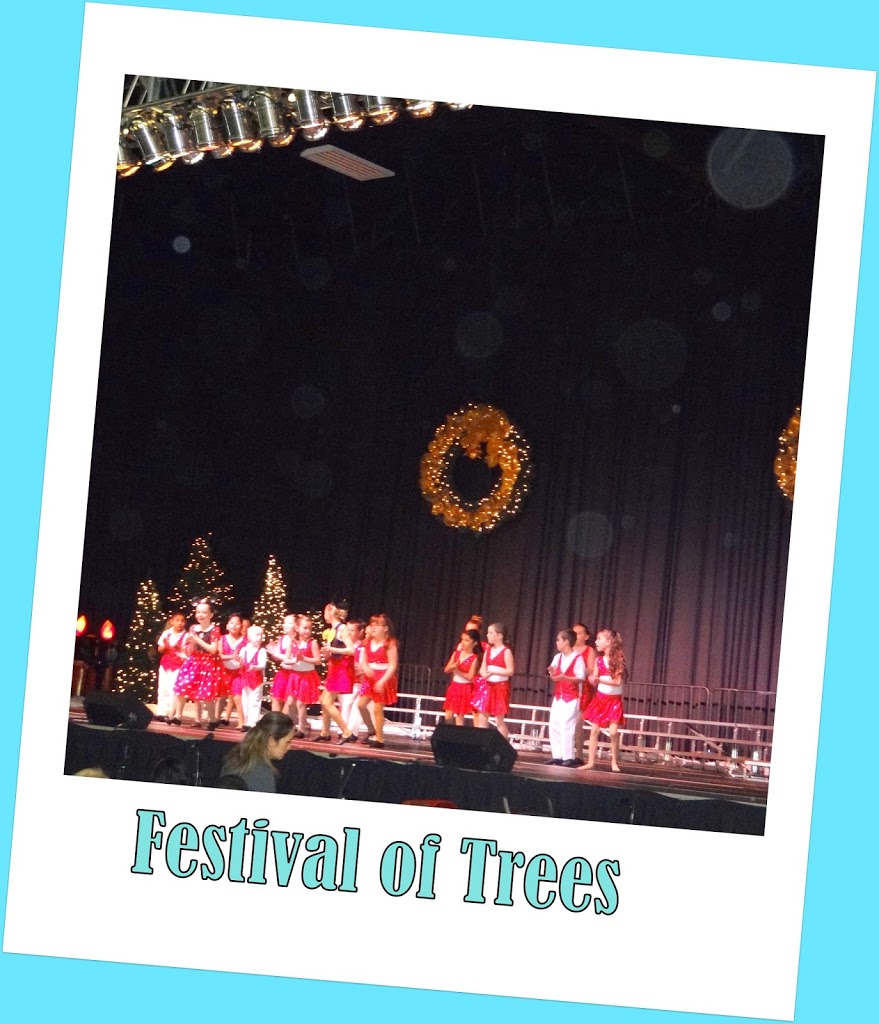 There is also entertainment at the Festival of Trees. One stage has dancing going on all night, and the other stage has singing groups and instrumental groups the whole night. It is very wonderful!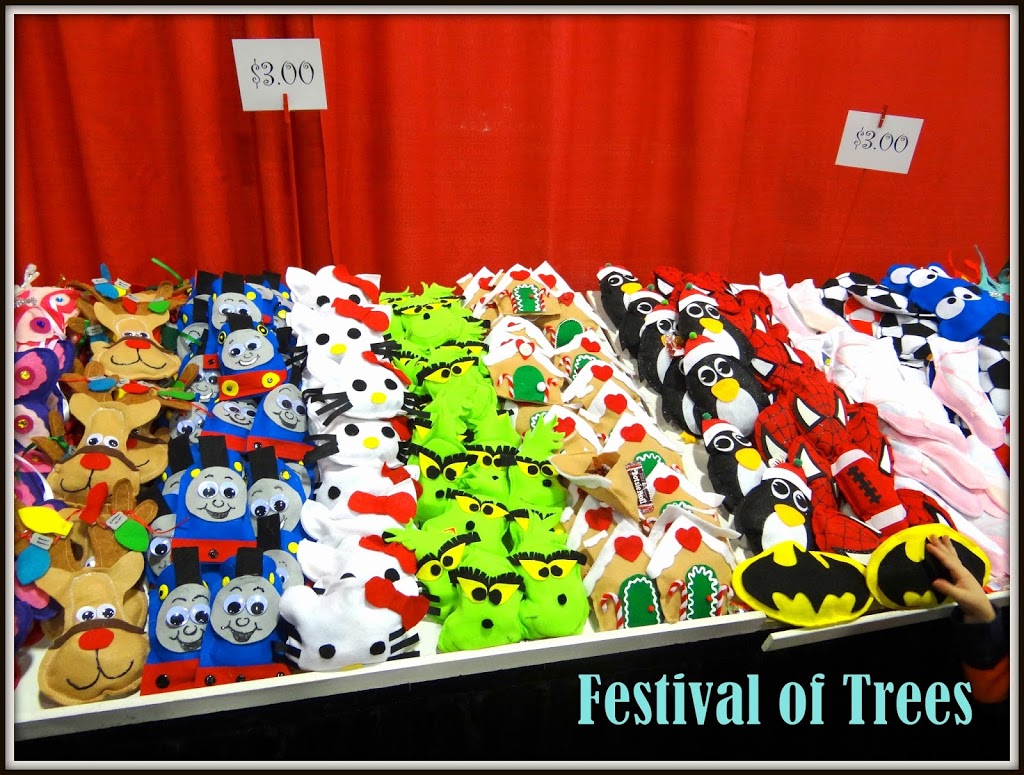 Here is a cute section of the festival where you can buy gifts for anybody and everybody. These cute things were all made from felt. I loved them all! Inside was a candy treat.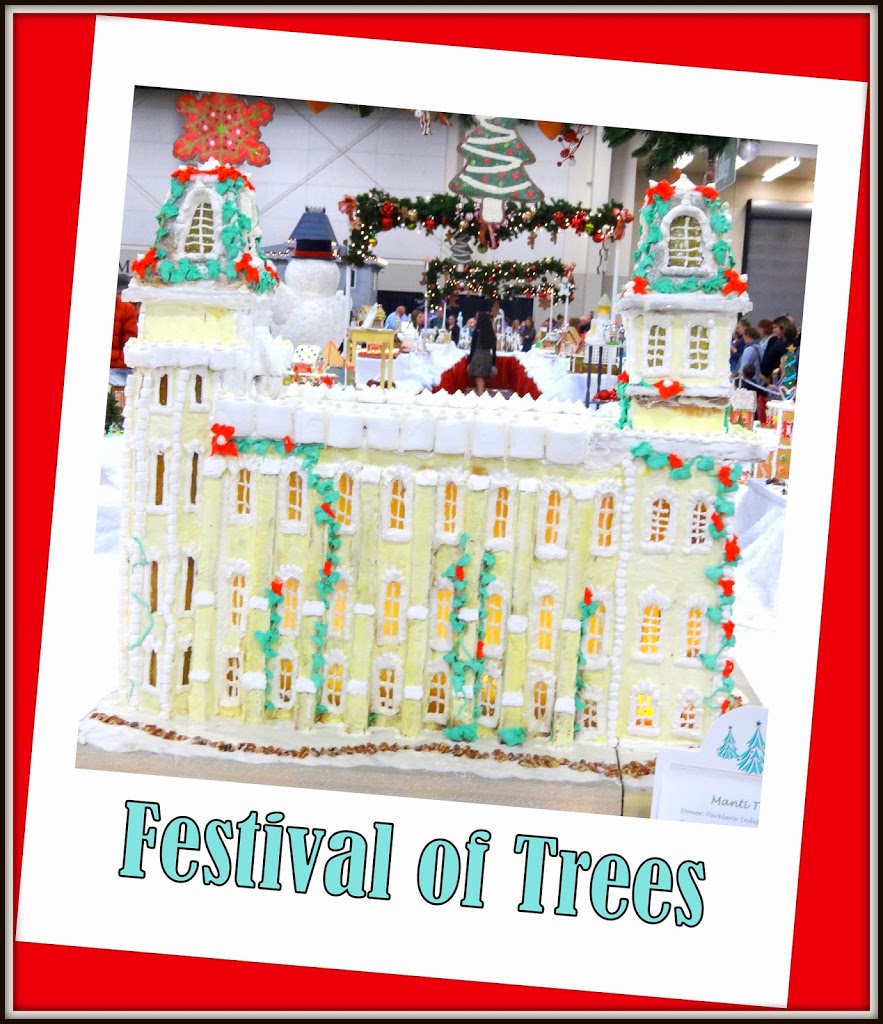 Gingerbread house of another temple.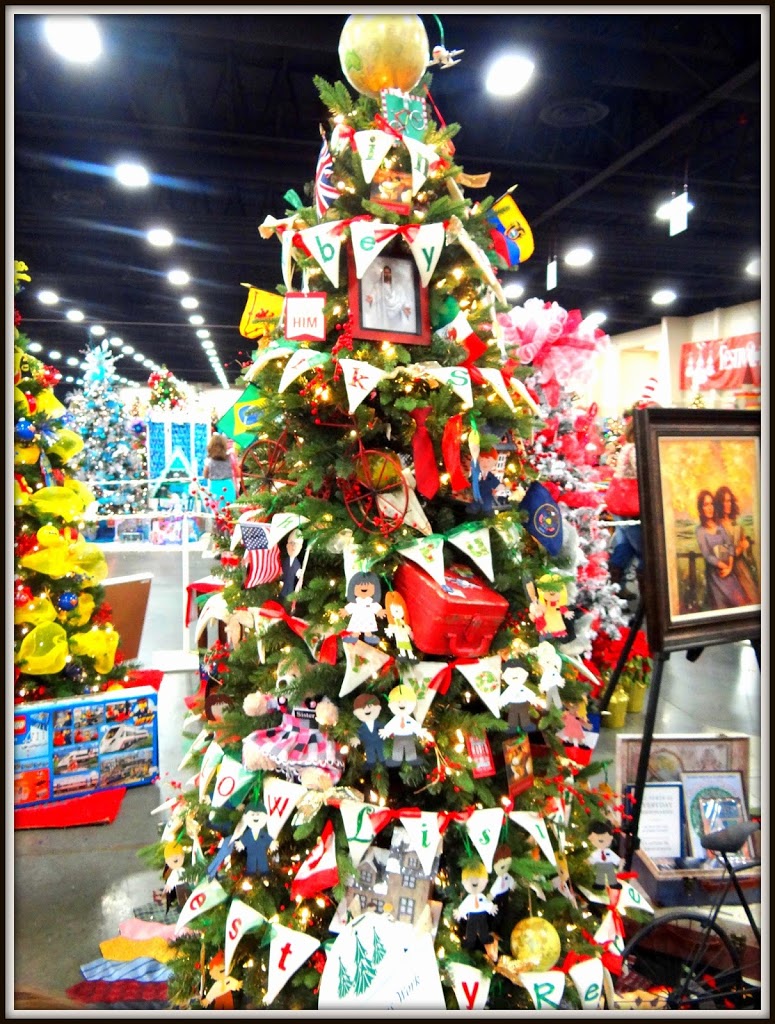 I think this was a missionary tree. Their are ties and flags from all over the world, and little missionary dolls with nametags. So cute!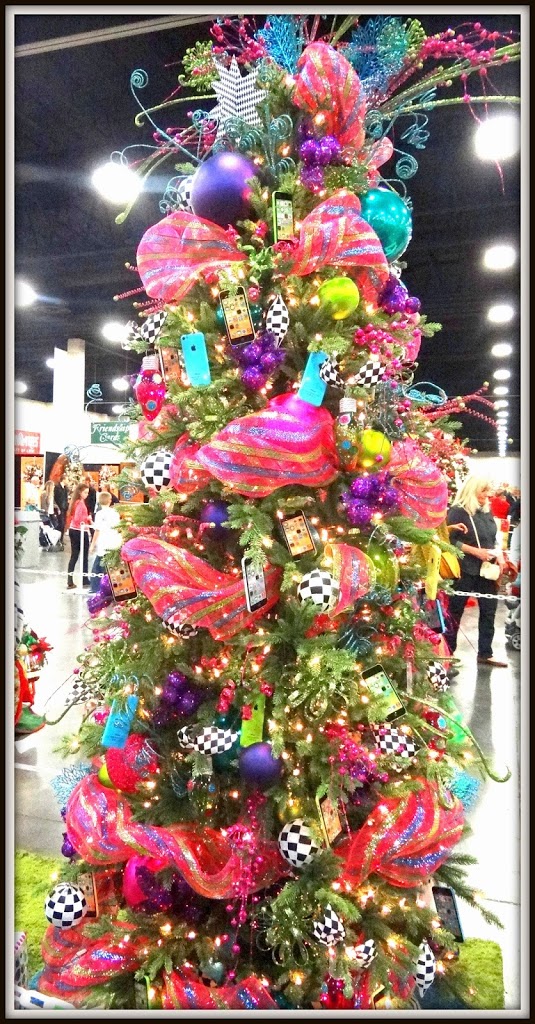 I think this was a cell phone tree? huh? Tree of the times I guess.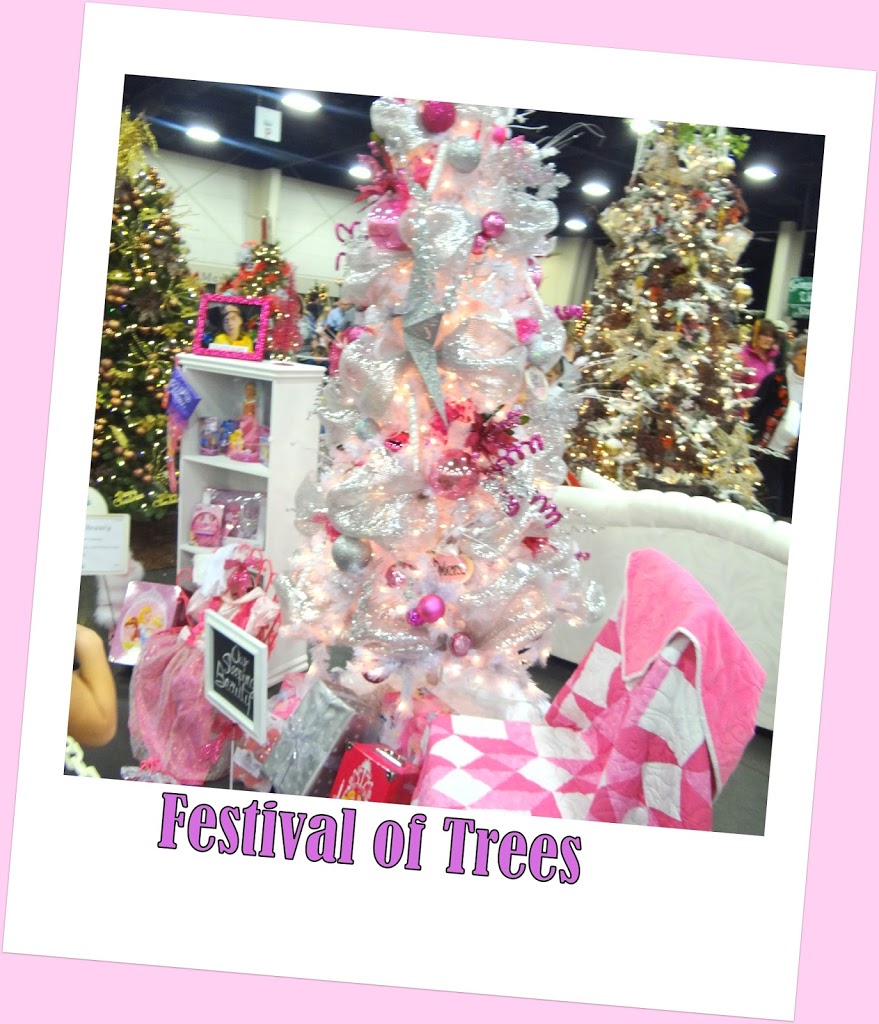 I loved this silver and pink tree. What little girl wouldn't love this in her room?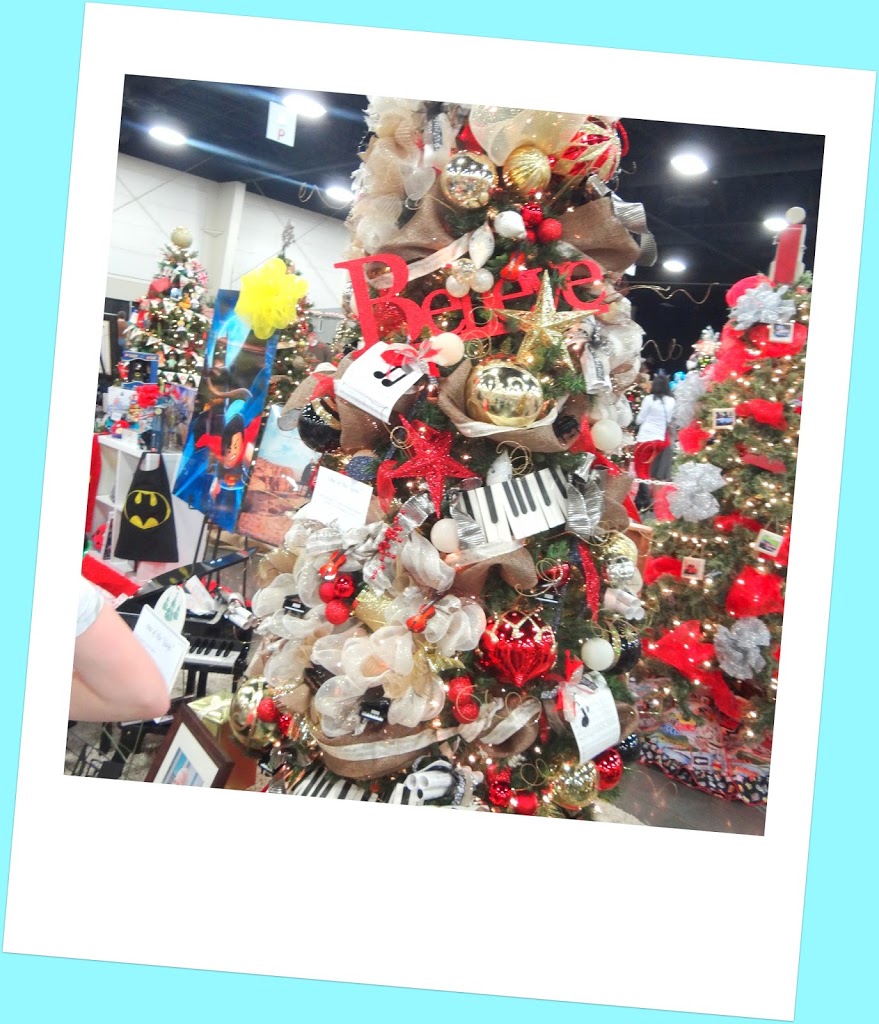 This was made for a music lover.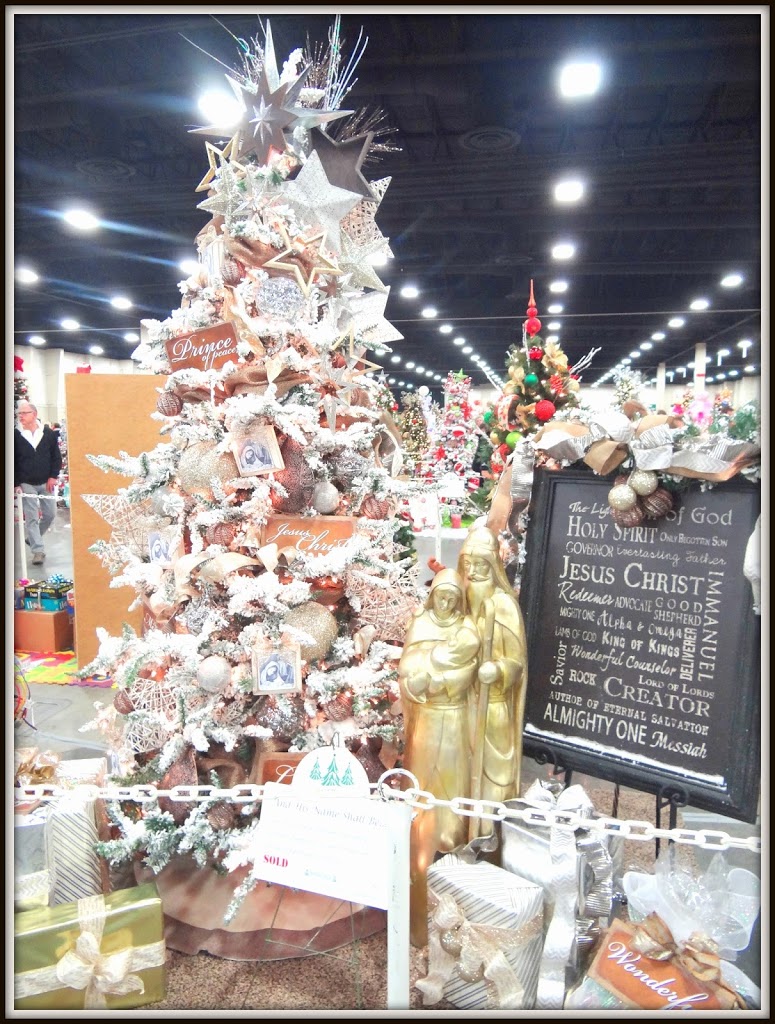 Golden highlights and stars on this pretty tree.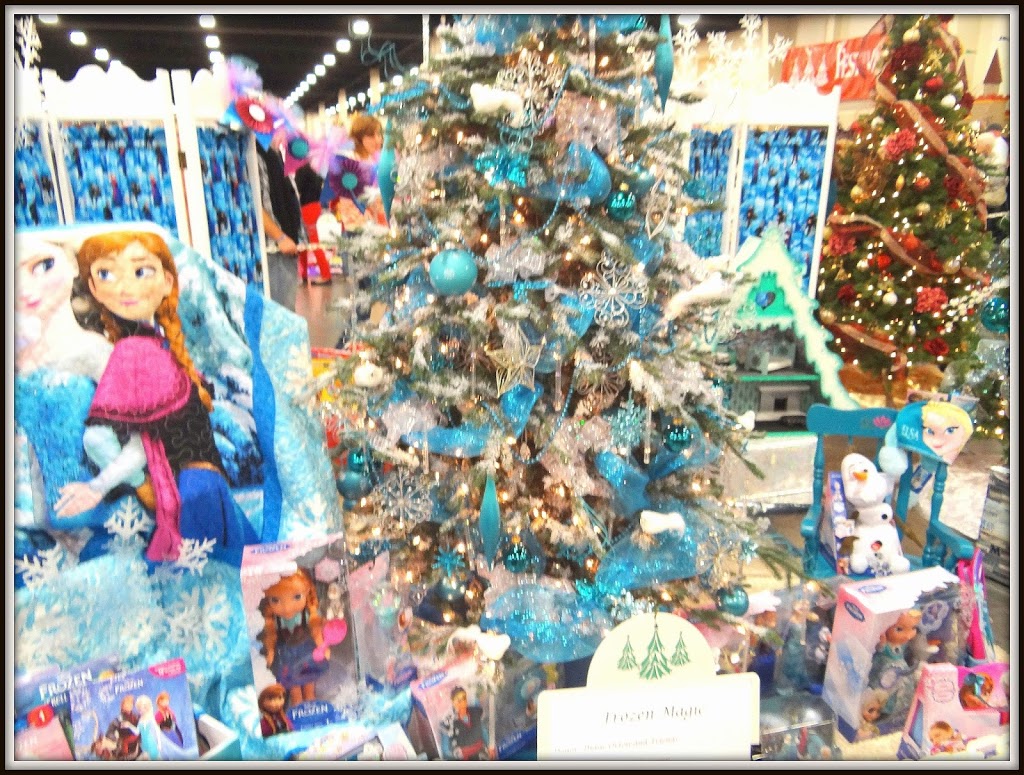 And this tree was for a "Frozen" lover.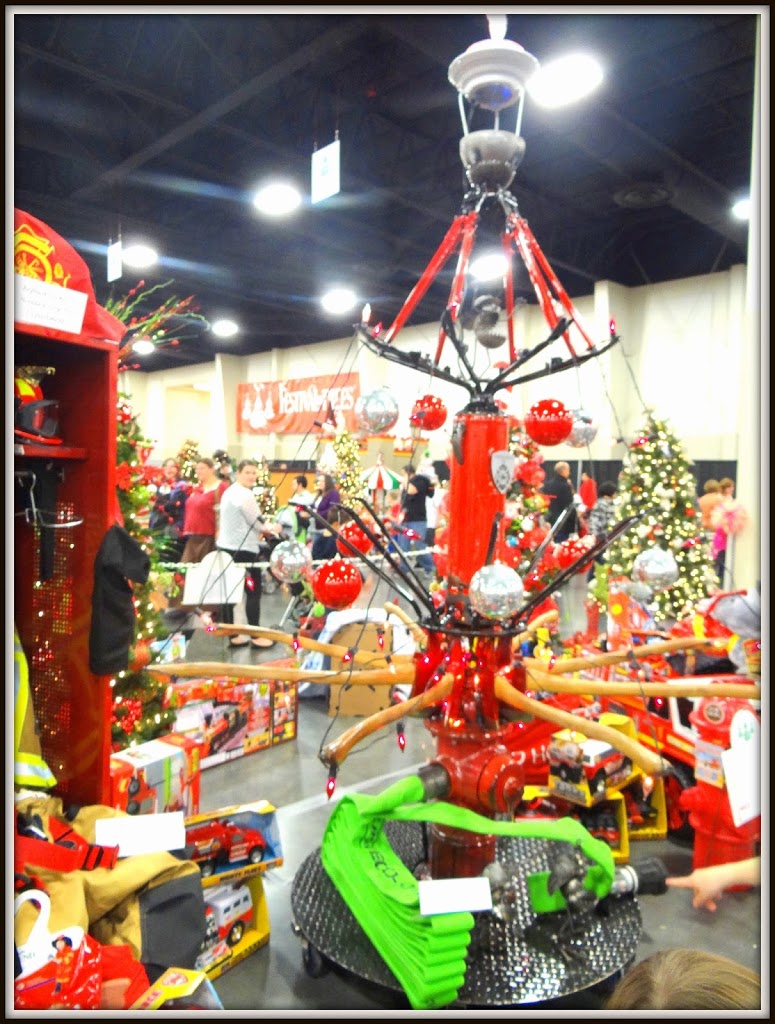 You can hardly tell but this weird tree lit up with fire and twirled.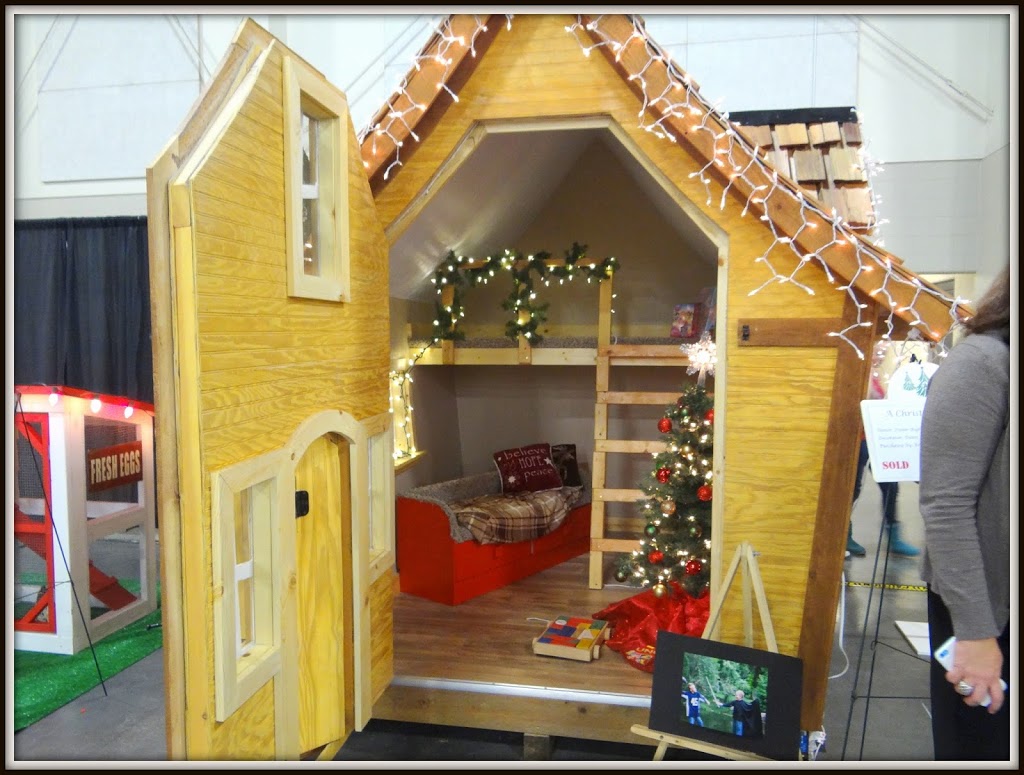 Another cute cabin with a loft. Super sweet!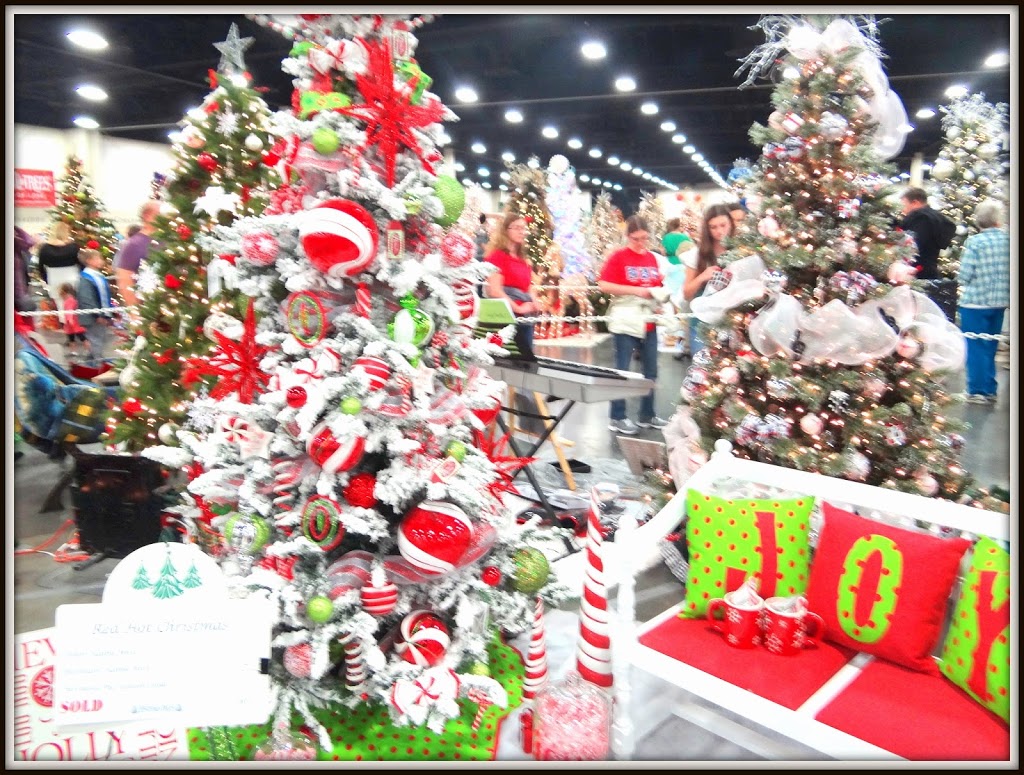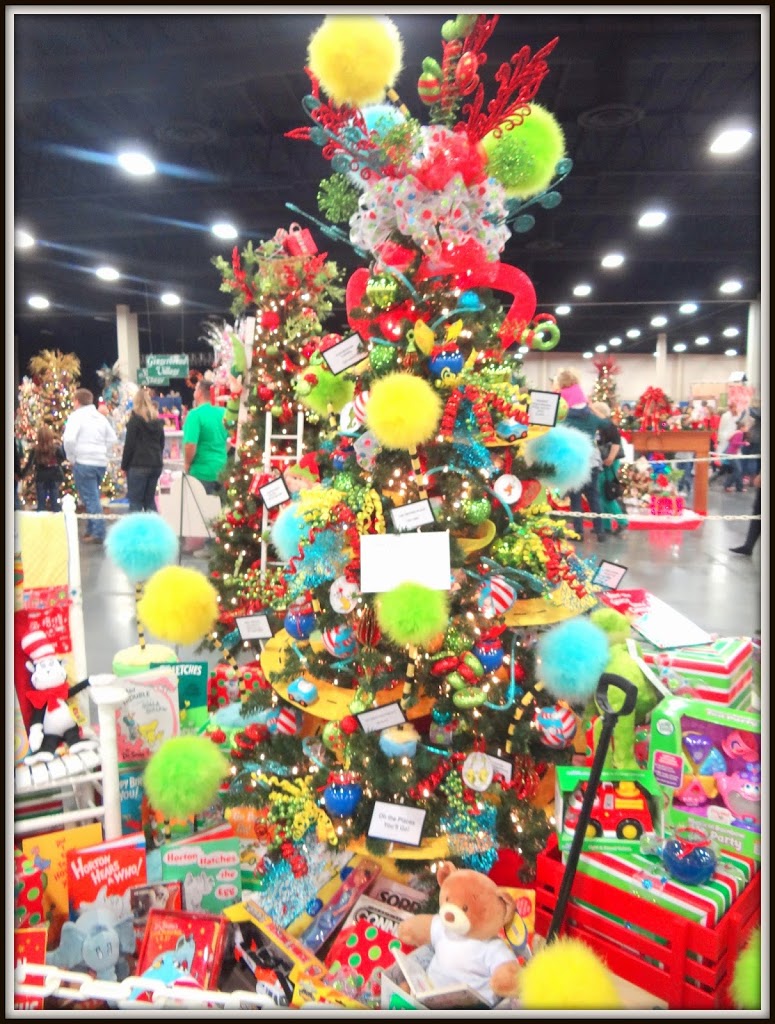 Was this a "Sneeches" tree? Something Dr. Seuss for sure.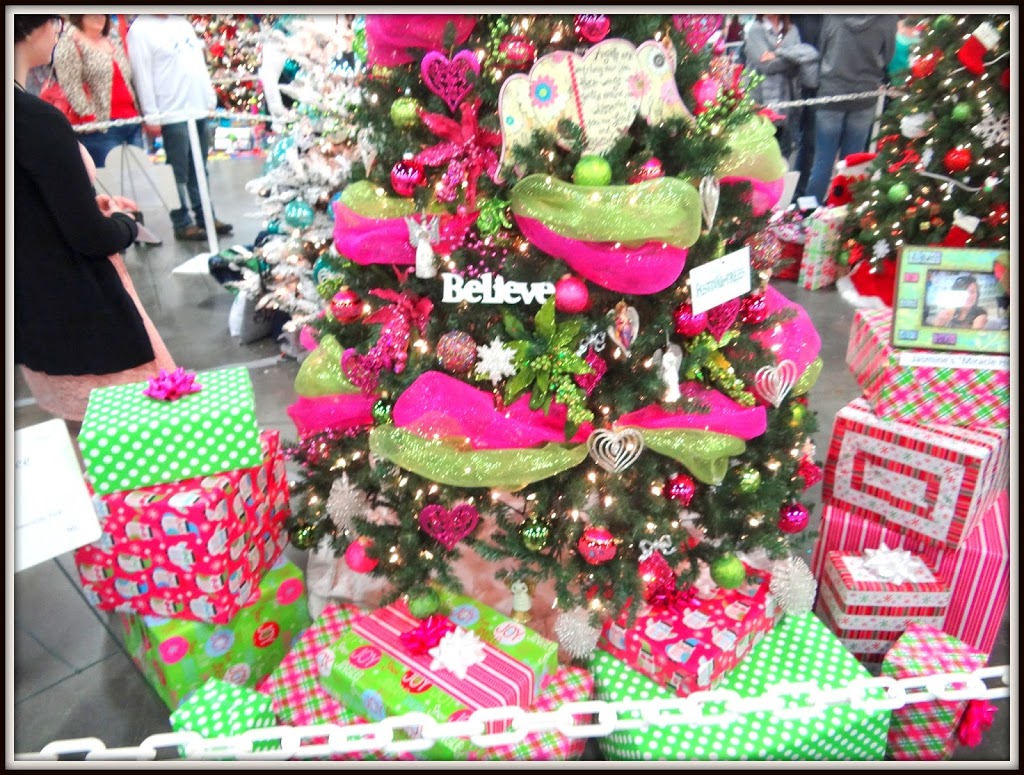 I just thought this one was so pretty with the coordinating pink and green presents all around it. I think it had angels all over it.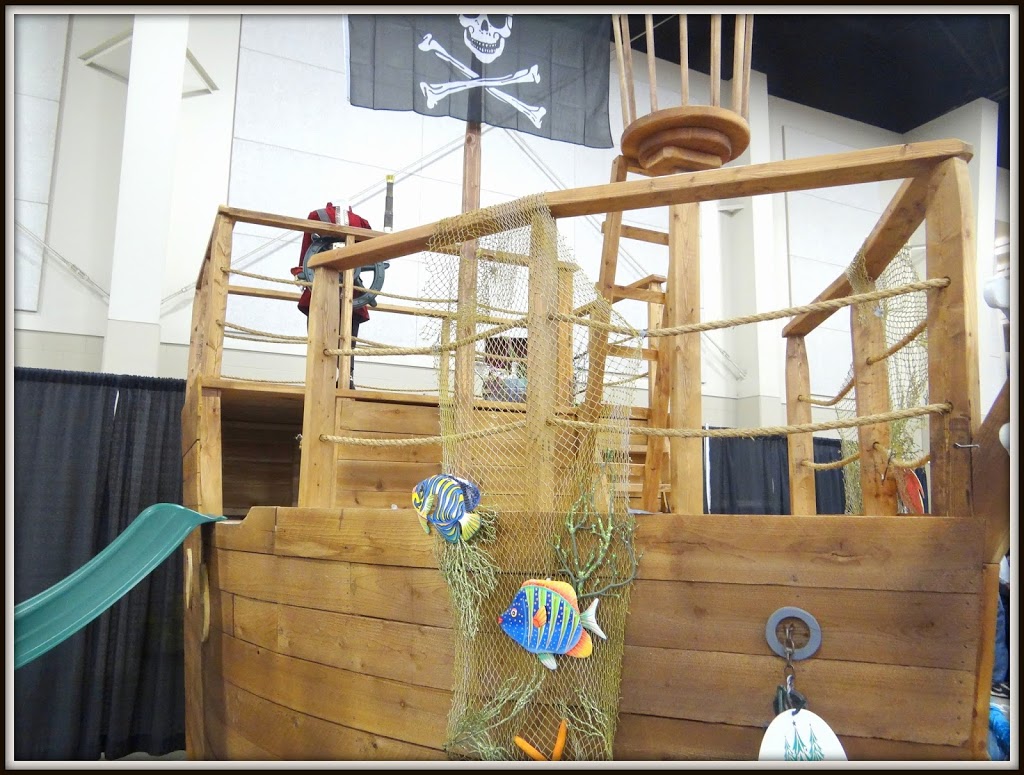 This was my very favorite kid's cabin; a Pirate Ship Cabin! I would love to buy this!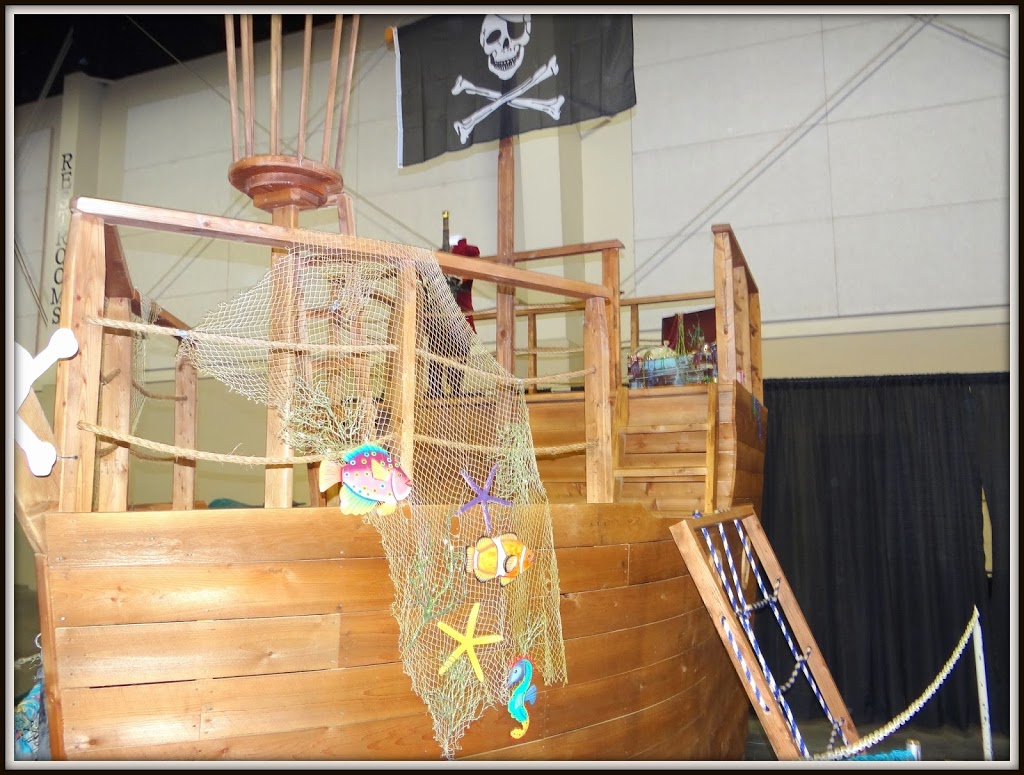 I would put it in the backyard at our Bear Lake Cabin. I may have to just copy it in miniature and make the hubs create it for my grandkiddos.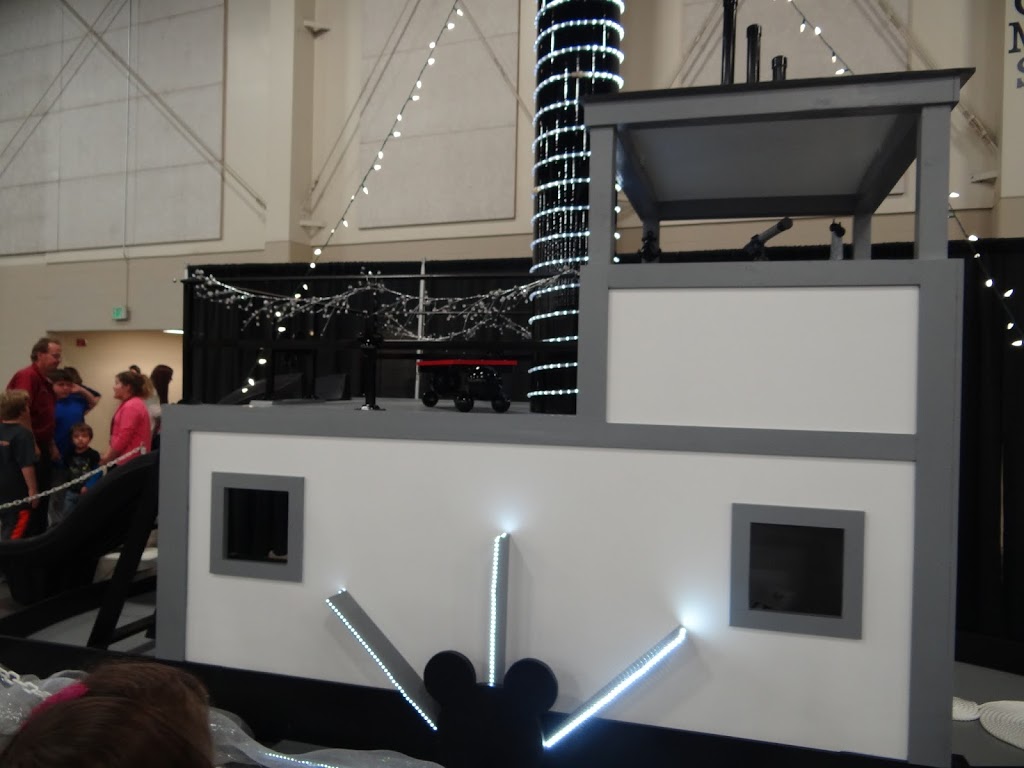 A modern looking riverboat cabin. It was too modern for me.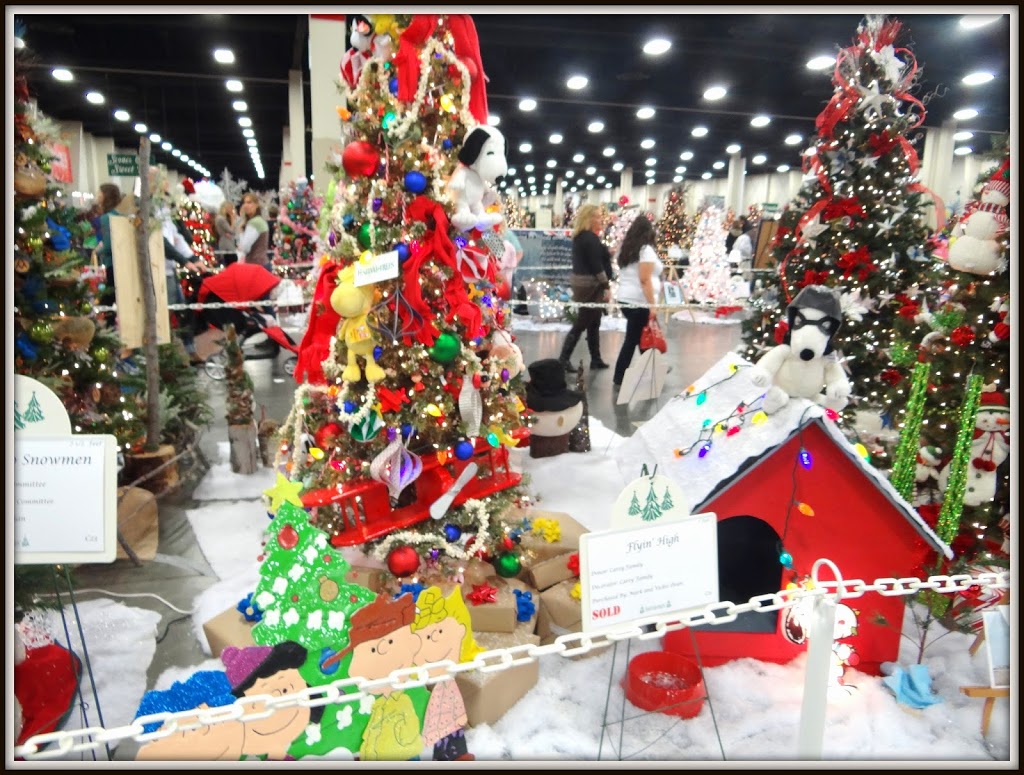 Peanuts tree with all the Charlie Brown characters and Snoopy's doghouse. I have a Snoopy Christmas Cookie jar I bring out every year. It is bright red just like this one.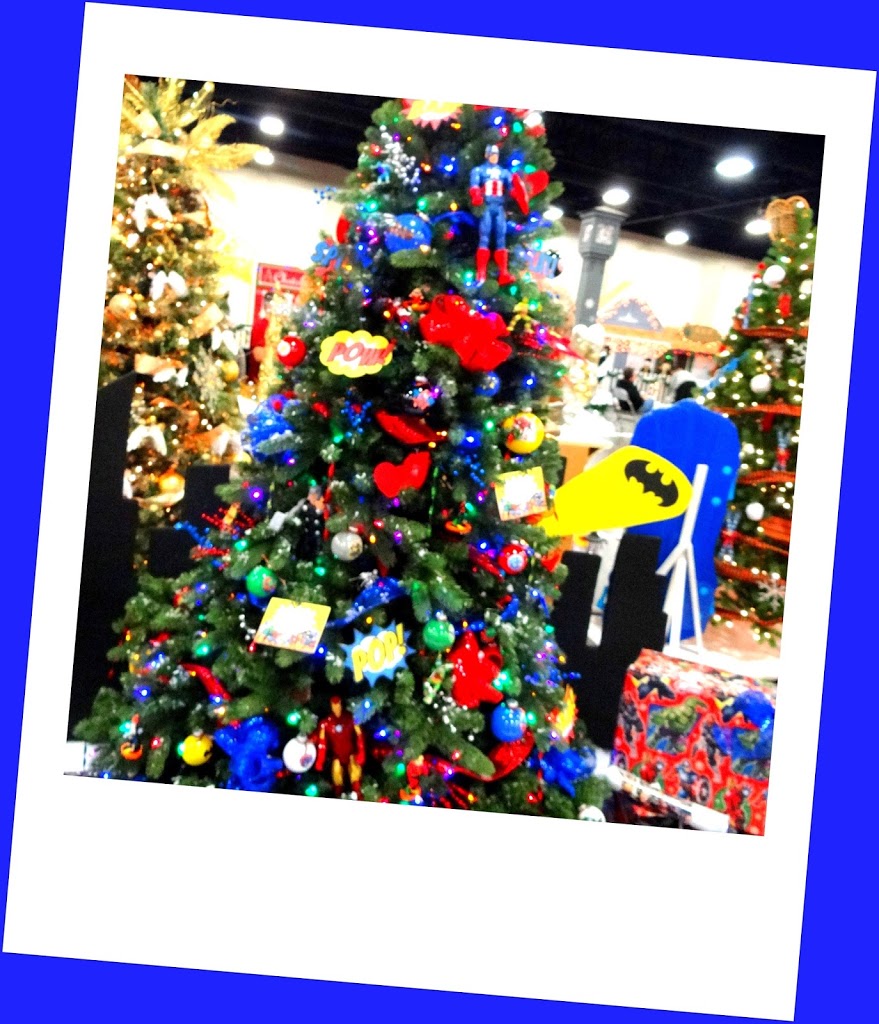 Another Superhero tree.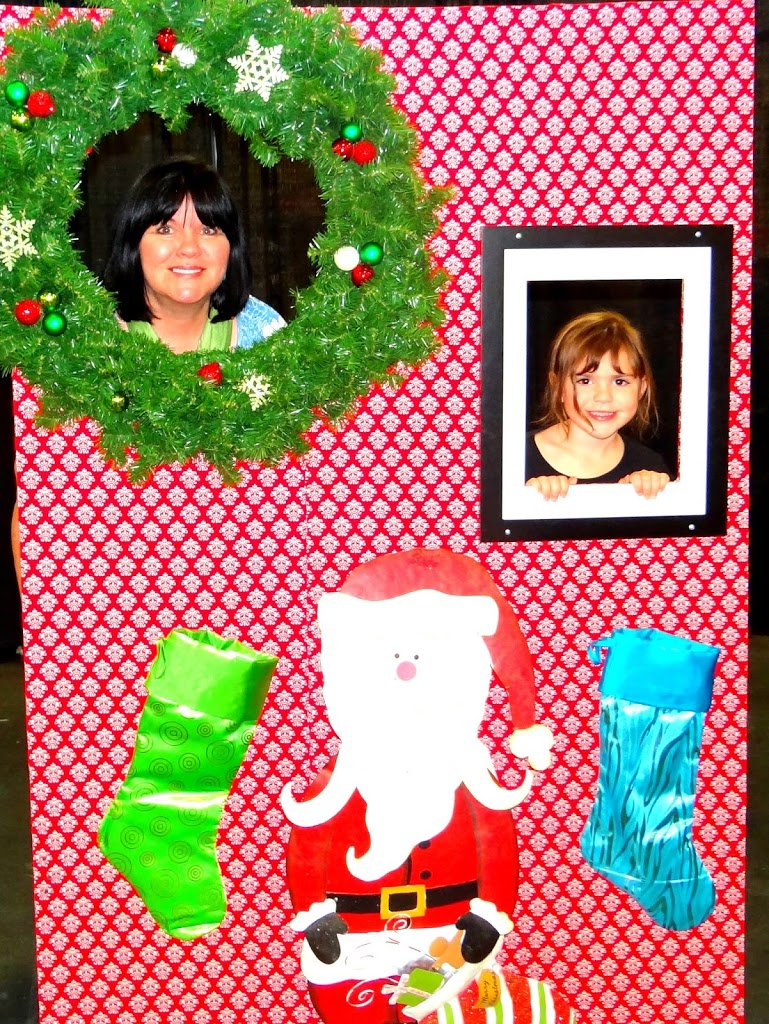 Here's me and my granddaughter Meg in a photo op. It really does look like we are just pictures on a wall doesn't it? Crazy!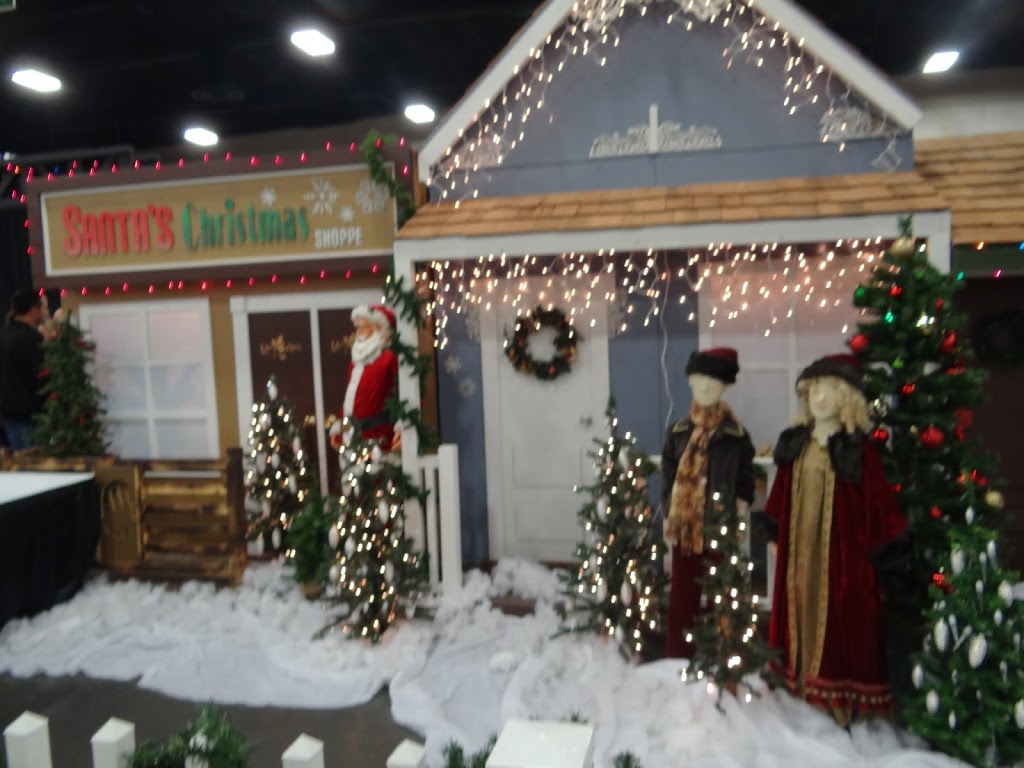 A "Dickens" playhouse with carolers.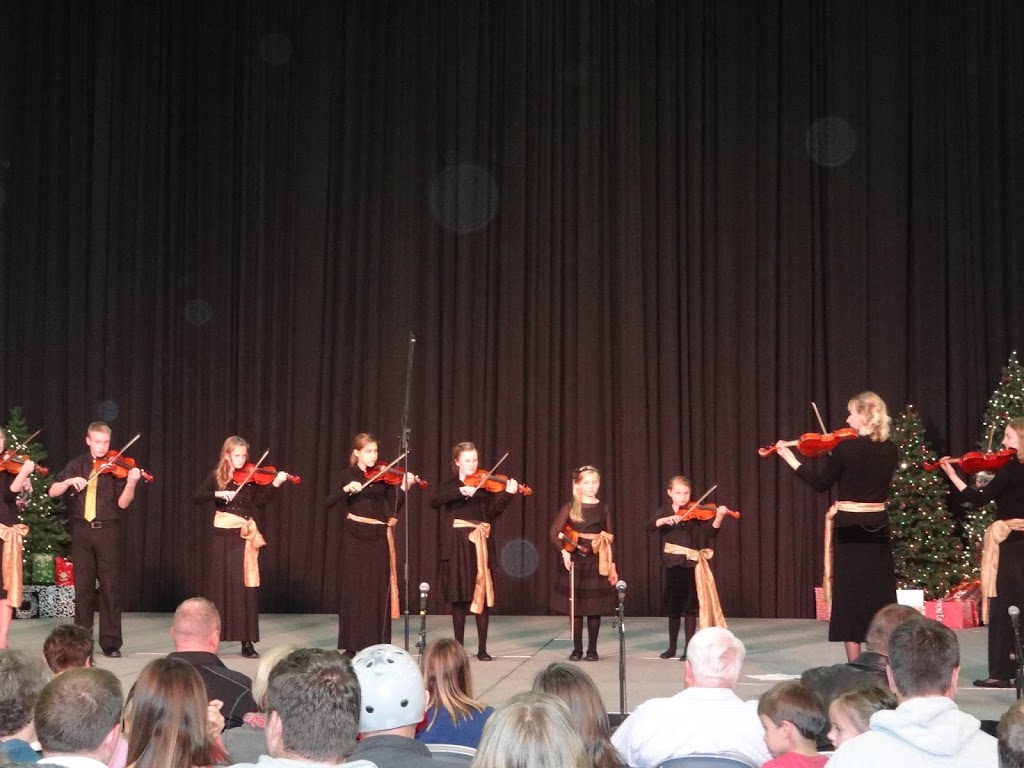 We sat and listened to this troupe of violinists. They were fantastic.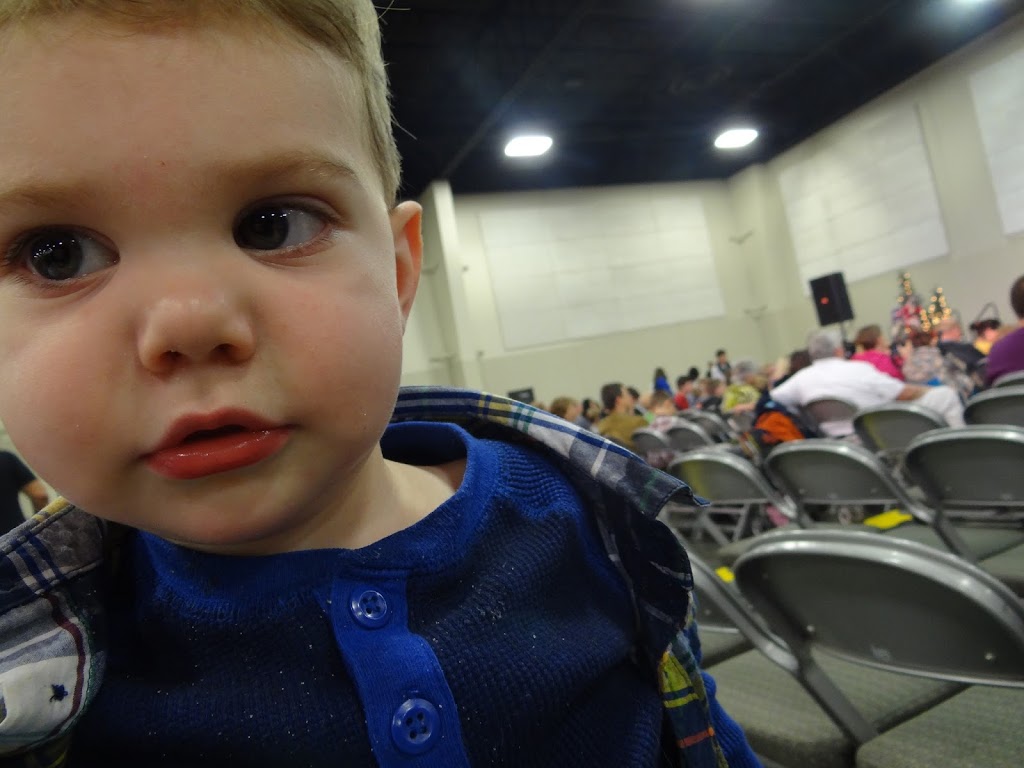 My little grandson wasn't all that interested in violin players though. He wanted to climb all over us instead. lol.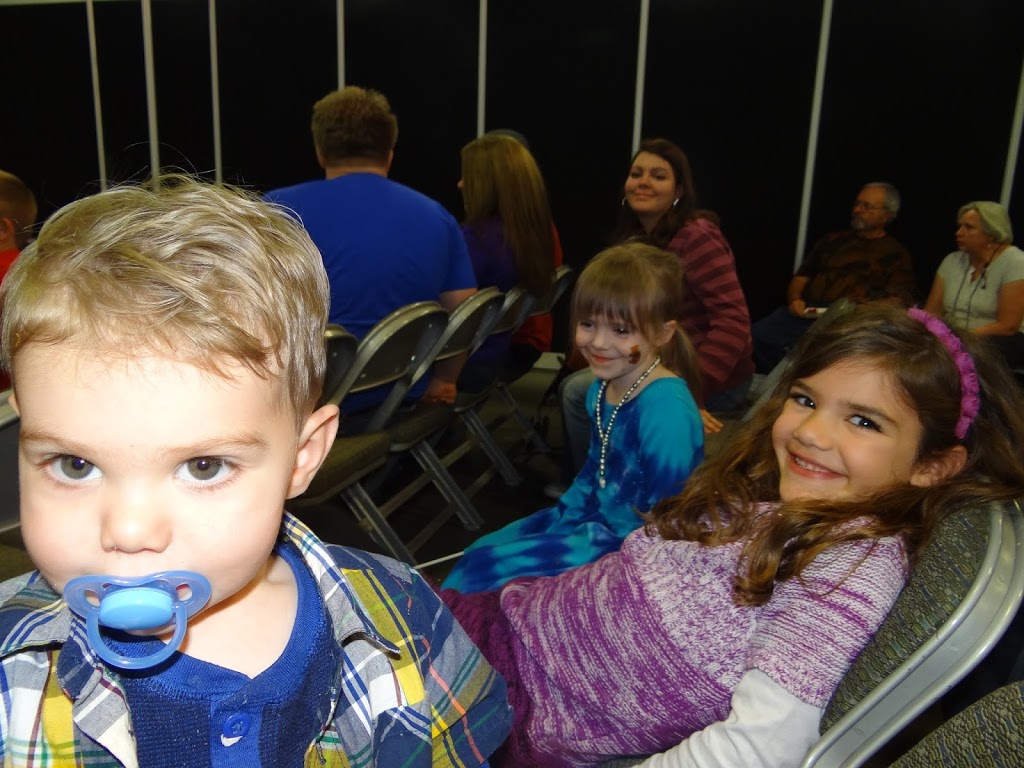 Here we all are listening to music eating our caramel dipped apples.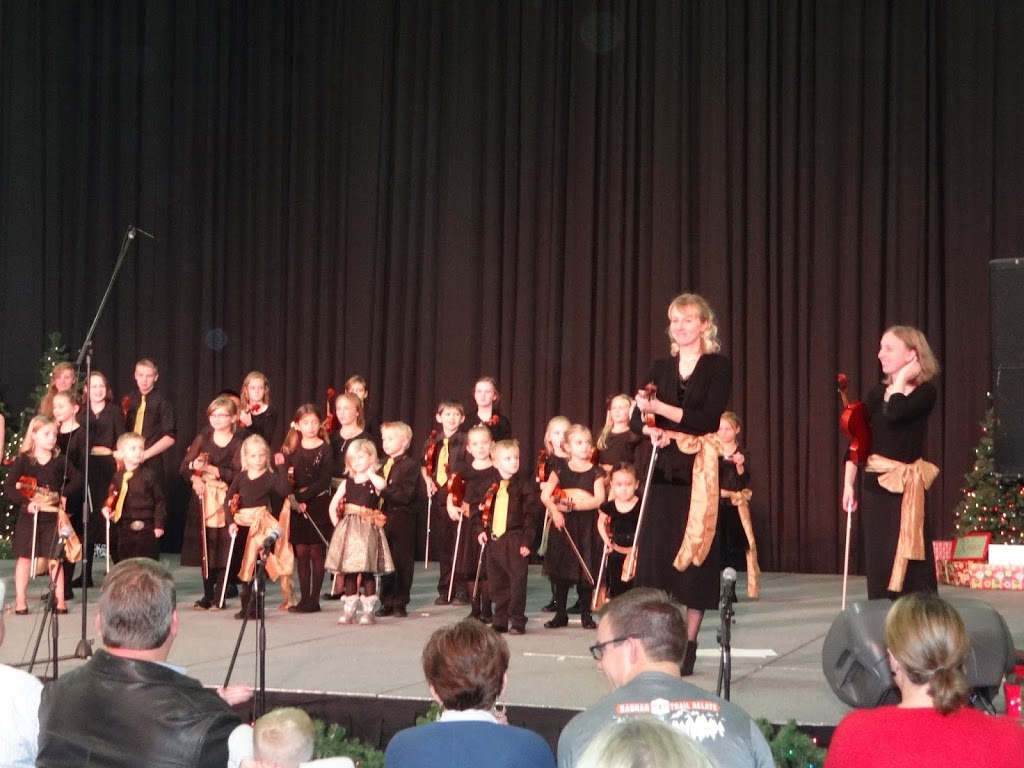 Look at how tiny some of these little kids are! Amazing. My daughter started playing violin at 8. We loved going to the orchestra concerts for years and years. I miss that!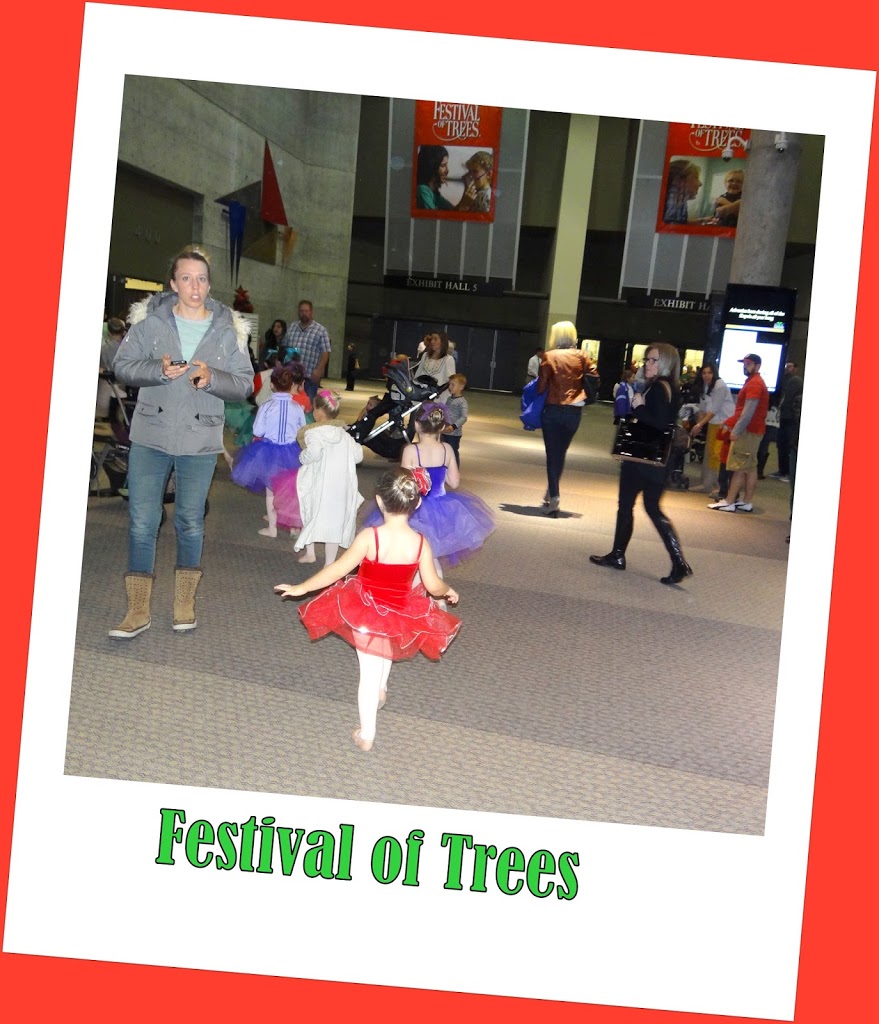 As we were leaving the Festival of Trees these little ballerinas were on their way in to perform. Aren't they sweet? It is a fun night and an even more wonderful tradition. The Festival of Trees in Salt Lake City, Utah is one of the best things about living here. Yup.