I am moving this week to a new house. My backyard pond I'll miss you. You have been a source of peace and serenity to me. I will also miss my jacuzzi in the backyard there by the pond. I am going to learn to simplify. I guess I don't need all that stuff. But I know I will really miss it too….sniff…..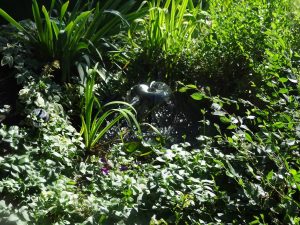 My Backyard Pond I'll Miss You
I love a home with a water feature. We have 2 of them; one in the front yard with a waterfall, and one in the backyard, getting pretty overgrown with plant material now. John says he may need to just fill it in because we will be renting out the house and ponds are a liability. Well that is just sad, isn't it? How can such a beautiful thing be a liability. That sucks.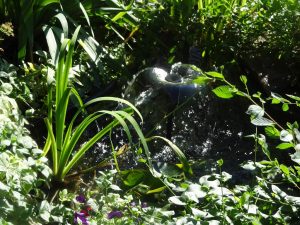 Backyard Pond I'll Miss You
We used to have giant KOI in our Backyard Pond. That is, until a bad old raccoon got in our backyard and jumped in the pond and bit off all their heads. Yeah, that is not a pretty sight to come home to…your lovely fish all gutted with the remains strewn all over the backyard grass.

It was one of my hub's pride and joys that Koi Pond. So we just do a few goldfish now. And the grandkids love to come see them. We have a mushroom fountain inside and some water plants growing in it. I plant the flowers around it. We have some iris, some herbs and some pansies. I've tried putting in azaleas and hyacinths too.
Ito is so fun to put goldfish in your pond. Ours will just hibernate in the snowy winter and it is interesting how you can actually poke them through the ice and they will wiggle a little. That's how I knew they were still alive in that frozen, winter pond. The next year the ones that live are very hearty and will grow to be 6 or 7 inches long. Very pretty.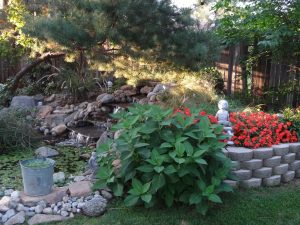 Another neighbor of mine, the Newmans, have this great pond in their backyard. It's got a natural looking waterfall, lilly pads and koi swimming in it as well as beautiful flowers and bushes surrounding it.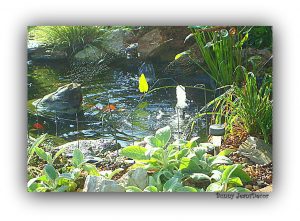 I love the little Frog and the spiderweb in this Pretty Pond picture.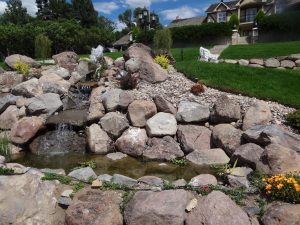 Here's one my neighbor just finished. It's a waterfall ending in a pond. He lives on a huge hill so this water feature is a great idea to use up that front yard full of green grass!
HERE at Gardening BC is a tutorial on how to build a backyard pond
in your own yard to enjoy. I love mine. Even though it is a lot of work
to keep up, the sound of water is very relaxing to hear while you sit
and soak in the jacuzzi. I love a pretty pond full of goldfish too. I will truly miss it.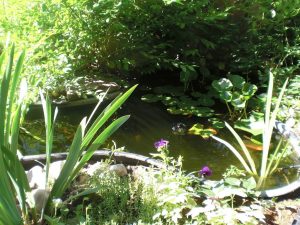 Our backyard pond water feature…… It's a beautiful addition to any yard.

Backyard Pond I'll Miss You. But now I'll have a new yard to decorate. That will be fun too.