Happy 4th of July! I decided to make some cute 4th of July Crafts and Food today. It is America's Birthday after all! Woot!
I'm making cream puffs and cupcakes but I'm going to use these Freebie Cupcake Toppers on toothpicks and some little AMERICAN FLAGS like the ones below. I'll have to sprinkle some patriotic sprinkles on top of the cream puffs for pizzaz!
Cute 4th of July Cupcakes are always easy and a hit. Try some cream puffs for a change of pace. They are easy too and feed a large crowd.
Patriotic 4th of July Cupcakes made with fresh blueberries and strawberries and decorated with marshmallow cream mixed with cream cheese and cool whip. Recipe is HERE.
Last 4th of July pictures.[/caption] I wish I had my doggie Bruce to dress up all Patriotic! But I'll have to just enjoy seeing pics of other doggies all decked out in their amazing best of the red, white and blue. Here is our granddog Gunner in his cowbow wow tie.
My Granddaughter and my Granddog in his CowBowWow tie.[/caption] FOODS for 4th of JULY:
Pasta salad is always a good choice for hot summer days because you use vinegar and oil dressing (I love KRAFT House Italian the best). Here I used a pretty bowtie and added fresh veggies, chicken and some Parmesan cheese.[/caption] I'm making a pasta salad today to go with the potato salad we love. Click on the link below the picture for the recipe.
I also really like Girrards Greek dressing. But it is hard to find. I sometimes see it at Target. It is great with artichoke hearts in the pasta salad. RECIPE HERE.
Potato Salad that only has 4 main ingredients but tastes out of this world. Recipe is HERE
Here is one way to arrange your veggies and dip. But I found a better way. Much more creative and fun. Here is my variation after staring at pinterest for a while. haha.
Veggie Tree and Dip. And some fun foods for the occasion. Here is a cool way to display veggies and dips for the 4th of July Par-tay! Woo Hoo. Fireworks here we come!
Delicious fresh summer fruits on a skewer really can't be beat for any summer celebration too. They looks so much fancier on wooden skewers too, and kids can help make them!
I just need to add some red geranium silk flowers to this pot of hydrangeas and add an American flag!

GAMES and Decor for 4th of July: I liked this cute printable Tic Tac Toe game that my granddaughters will love playing. We are going up to our lake cabin for the weekend. So it will be fun to watch them playing games during our down time. Here are two of them with red white and blue tongues! haha. We are SO Patriotic around here.

For decoration, I dug through the storage room and found my patriotic box. It took forever because the hubs got involved in reorganizing down there (don't ask!) and now I can't find anything. WTH?

Uncle Sam is fun to hang out in a corner for the 4th![/caption] But I did get out my placemats and of course I'm ready with my firework stockpile. (we are big spenders, I think this was 5 bucks on sale at Smiths Market).
A fun game I think my grandkids will like is this magnetic match game I put together using 4 sheets of Patriotic Dollar Store magnets. They seem to have them every holiday so look for them in the picnic/kitchen supplies area. I am going to write on each pair the addends of 10, so the kids will start to memorize them as they pair them up.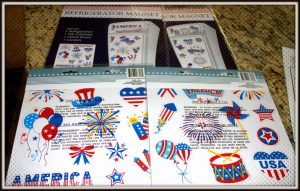 The kids can use cookie sheets and play match game with the 2 double sets of magnets. 2 groups can play at the same time. I could also have done "doubles" and put the double equation on one magnet and the answer on the other. Fun!
I have lots of good ways for keeping the kiddos busy. How about doing a lemonade stand at your gathering and put the kids in charge. It will keep them VERY BUSY!


I got this cute Lemonade Stand at Target. You could also have a big metal pail full of cans of pop to "sell" so the kiddies don't have to work too hard.
Isn't this the cutest picnic blanket? My daughter made it out of red and white calico prints. I love it. I'm making my own version that has taken WAY too long using old Levi's jeans pockets and denim from old jeans. The quilt could back the wall of your garden party or Backyard BBQ at the food buffet. Quilts can be great decor ideas
.

Use striped towels for food tables. Towels can be great decoration helps. I will add blue and white tin pails I got at the dollar store for silverware and napkins.
The tin pails came in blue and white and red and white stars for only a buck at
All a Dollar.
!

Another fun game is Patriotic Tic Tac Toe. The printable freebie is HERE. You could also use red and blue dollar store checkers or jewels for the markers.

Hope you all have a great holiday. I am heading out to the lake to have some fun there and relax after finishing my last week of school Thursday. Proud and thankful to be an American
Happy Red, White and Blue day everybody!