I decided to redo my 90s bathroom that was dark green and yellow. All the decor was so dated. I found some really pretty paint in just the perfect blue-gray color that I wanted to redo these 80's light oak cabinets with.
My Old 90s bathroom decor with dated light oak cabinets has to go.
Bathroom Remodel Part 1. My bathroom cabinets were all this light oak that I wanted to paint a pretty color. So I bought the paint at Home Depot called GRAY MORNING in the BEHR paint line. I like the paint and primer in one to make the job easier. I really only had to use 1 coat and just touch up the edges and ridges with a 2nd coat. It looks beautiful!
I love this BEHR paint called GRAY MORNING. It is a light blue gray that looks great!
GRAY MORNING from BEHR paint turns out the perfect gray blue shade. I got flat paint. I probably should have gotten eggshell or satin. But I wanted it to look like chalk paint. Did you know you can add 1/3 cup plaster of paris and 1 cup water to a gallon of paint and it makes chalk paint? Well, that's what the Home Depot guy said. I'd check that out online before doing it though.
After painting the cabinets they still needed a little something. So I bought some pretty brushed silver knobs and 2 little, wooden, doo-dads for each of the false drawer tops. I have two of them since I have 2 sinks in that bathroom. I think they were $3.50 each.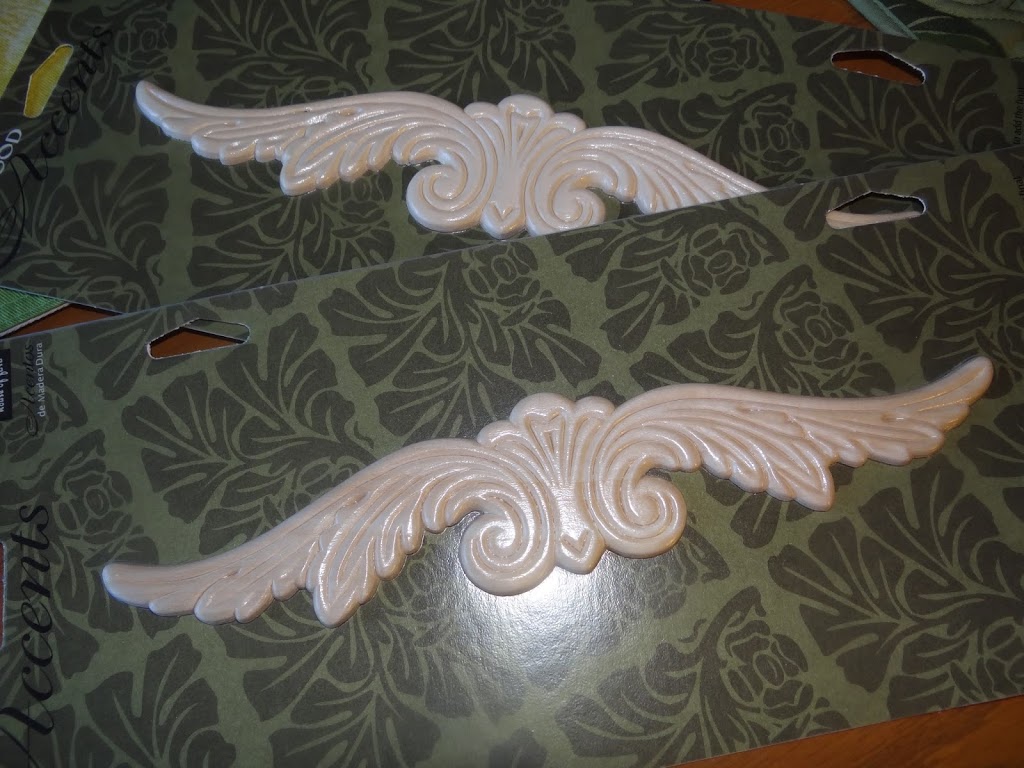 Cabinet doo-dads really add a little flair to boring old 80s light oak cabinets.
The easiest way is to glue them on the cabinets first, then paint it all together. That's what I did in my master bathroom. And I think I lightly tacked them on with tiny finishing nails till they dried. But this one I bought them after painting so I had to glue them on painted wood. It is definitely harder that way. Glue them first, paint second, just a heads up. I used a little bit of tape to hold them on while they were drying but they curled up at the ends. I'll have to do some more gluing. Bummer.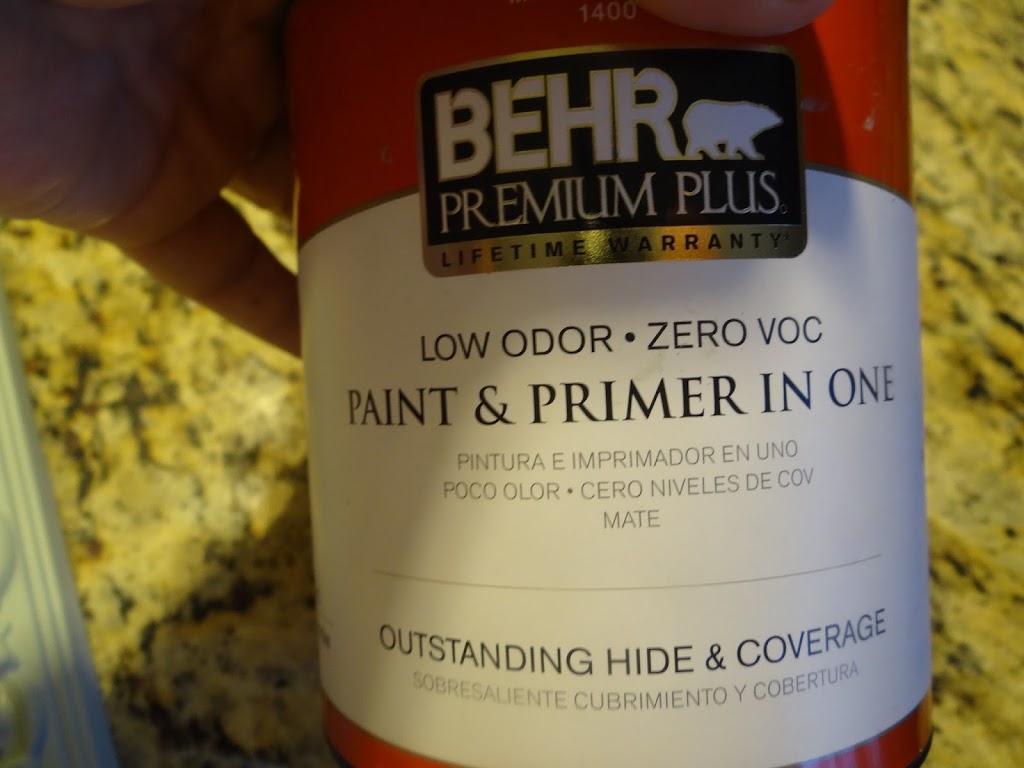 Bear Paint and Primer in one is the way to go. I only needed one coat and then a little touch up.

Bathroom Remodel Part 1 – First Step was the definitely the ugly cabinet repainting.Then we ordered our granite. I wanted dark granite for this bathroom since we already had pretty, dark, variegated slate floors. The dark granite looks good with them. I thought I could brighten up the rest of the bathroom using a light gray paint. I wanted to get rid of all that yellow.
Hey, they look pretty good! Finished painted cabinets look a lot better now! This is where I added the wooden doo dad. It looks a lot better. I'll post a pic when I'm finished with the knobs.
Now they just need the silver knobs. I needed 12 cuz this is a big bathroom with a bathtub and 2 sinks and lots of cabinetry. So I got 3 sets of 5 in the clearance bin at Home Depot. They were $7.00 per set. What a deal! I love how the cabinets turned out.
Pretty Tin Shelf I got at Home Goods for $15 bucks!
Next I went shopping for accessories. My first stop was Home Goods of course. This cute metal shelf will look great added to the new bathroom remodel. I think I might replace my old wooden shelf with this one. I'll have to decide how it looks after painting the rest of the room. Maybe it is a tad too greenish. I think it will look okay though, since I have a Beachy painting I bought as my bathroom inspiration.
Pretty candle I found at Home Goods
I bought this pretty beachy candle at Home Goods too. It was only $5.99. They have great deals on candles there.


Bathroom Towel Basket I got from Taipan Trading.
I got a few things for the countertops too, now that my granite is all put in. I thought this would look good with rolled towels inside. I may try nailing it up onto a wall, just depending on how the other stuff looks when I'm done. It was only $12.99 from Taipan Trading. And it has the nail holes if I want to screw it up onto the wall.
This area I need to add the pretty tin shelf to and maybe the wire towel basket, I have to see how they look after I paint the walls gray.
Now I've got to paint the walls. I have to redo all the decor in here. It's gonna take me a few days. It's gonna look great though! I'm excited how everything is turning out so far.